Newton Aycliffe's new town clerk says he's honoured and privileged to have been given the top job at Aycliffe Council.
After 14 years as finance manager at Great Aycliffe Town Council, Dan Austin has succeeded Andrew Bailey as the town clerk.
The lifelong Newtonian says he wants to improve the local authority's engagement with the community and enhance events on the town.
"It is a real honour and privilege to have been appointed town clerk and I am extremely grateful for the faith the Town Council has placed in me," said Dan, who went to Vane Road and Woodham schools.
"As a local lad, I am very proud and excited to have been given this opportunity to serve my hometown and help lead the town council over the coming years.
"In terms of aspirations for the role and for the town, these will be heavily influenced by the priorities of the incoming council and new councillors. As town clerk, my main role is implementing the decisions of the Council and providing advice and support.
"But I am personally passionate about the environment, nature and wildlife – so ensuring our green areas are protected and improved would be a high priority for me.
"I would also like to see the council improve and enhance the programme of community events it provides.
"It would also be good to help the council modernise its systems and processes, making better use of IT, and improve the way it engages with the local community and publicises its services and activity."
After growing up in Aycliffe, Dan left Woodham Sixth Form with two A Levels and, after a brief time at Sunderland University, embarked on an opportunity to 'learn and earn' via a Modern Apprenticeship at Sedgefield Borough Council in 1996.
He started his career in the finance department as a trainee in the internal audit section and then passed the Association of Accounting Technicians (AAT) qualification, which enabled him to study the Chartered Institute of Public Finance and Accountancy (CIPFA) qualification – effectively a degree in public sector finance. He achieved that qualification in 2001 which led to a promotion and a move to another section within finance as senior accountant with the former County Durham authority.
He was again promoted to principal accountant four years later before taking up the finance manager role with GATC in 2006.
In his role with Aycliffe, Dan has been responsible for advising the council on law, determining the council's accounting systems, internal controls, financial records, accounting policies and financial procedures, reporting on financial performance, providing financial information to councillors and officers, regular reporting of budgetary control, preparing the annual revenue budget and capital programme and preparing the medium-term financial plan.
He has also been responsible for treasury management of the council's cash flow, loans, and investments, payroll and personnel support, and managing the council's insurance arrangements.
Dan said: "As a local lad, who has lived in Newton Aycliffe my whole life, it is a privilege to work for the town council in my hometown and to play a small role in making our parish a better place to live and work.
"Also, with the town council being the level of local government closest to the local community, one of the big benefits of working here is that I regularly cross paths with the many voluntary and community groups and residents who are doing so much great work in the town.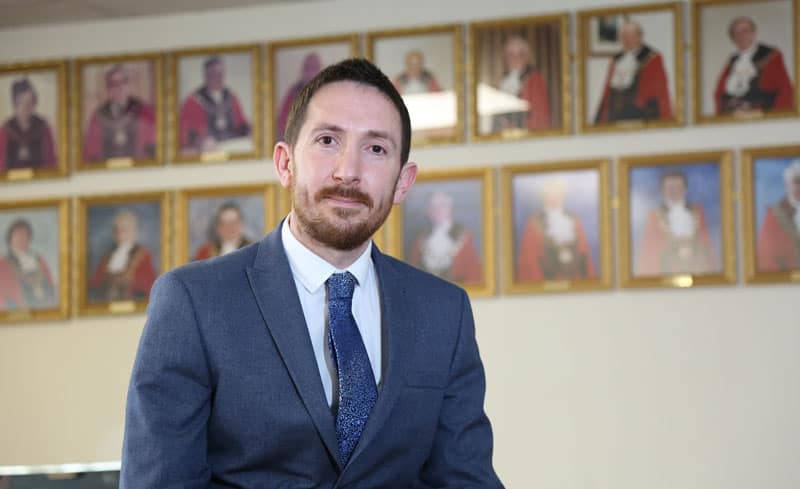 "The job also brings a sense of pride in knowing that the town council provides a number of valued services, events and facilities that help make our town such a good place to live and bring up our families.
"The parks, play areas, woodland, nature areas and green open space as well as the community events organised by the council are a particular source of pride."
Andrew Bailey worked his last day at Great Aycliffe Town Council last week after 32 years with the local authority – 15 of which as town clerk.
And Dan said: "I would like to thank Andrew for all his help, advice, and support over the years and for leaving me some very strong foundations to build on.
"I am inheriting a council that is well-governed by some very capable and committed councillors, and this has recently been supplemented by the new councillors elected at the recent elections whom I am sure will bring some fresh ideas and expertise.
"I am also very lucky to have in place some outstanding managers and officers working for me in managing the various services.
"Andrew was an outstanding town clerk who was extremely well regarded and respected not only by this council, but also by his fellow town clerks and colleagues across County Durham.
"Hopefully, I can take the best of what I have learned from Andrew over the years and add to this some fresh thinking, new ideas, energy, and my passion for Great Aycliffe and build on his great work."
Dan still lives in the town with his wife and two girls – aged 16 and 12 – and a one-year-old Labrador cross.
"So much of my spare time is spent with my family enjoying days out, running Dad's taxi service, and walking the dog," said Dan, who enjoys keeping fit, spending time in the gym and running and playing five-a-side football.
"For my sins, I am a Newcastle United fan and try to get up to the games as much as I can," he added.
"I love listening to music and going to the odd gig – indie and Britpop being my music of choice. I also love craft beer and enjoy trying new brews and visiting local breweries and tap rooms when I can."