Four new members of staff have followed former RAF chef Chris Coleman to join the team at of one of Newton Aycliffe's former World War II bullet-making factories.
Five members of staff have started their new jobs at Newton Aycliffe leisure facility ROF 59, the former Presswork Metals factory which closed six years ago, which is due to re-open as a £1.1m mixed leisure facility before the end of the month.
Chris Coleman, who's trained in classical French cuisine, spent several years in Her Majesty's Royal Air Force.
During his time with the RAF, Chris cooked for then Prime Minister John Major in the 1990s as well as American President Bill Clinton.
You can read more about Chris by clicking here.
Click here to see the latest pictures of how ROF 59 is progressing.
Around 20 jobs will be created by ROF 59, and joining Chris already are fellow chef Chris Walls, restaurant/bar manager Phil Perkins, restaurant supervisor Kevin Sansom and bar supervisor Taylor Dockerty.
Receptionists Naomi Jackson, Kathryn Runciman and Gaye Stephenson (pictured below) have also joined the new team at ROF 59.
Chris added: "Kim and the Finley team have put in a vast amount of attention to detail. Creatively it's a very cleverly thought out concept – one of the nicest I've seen.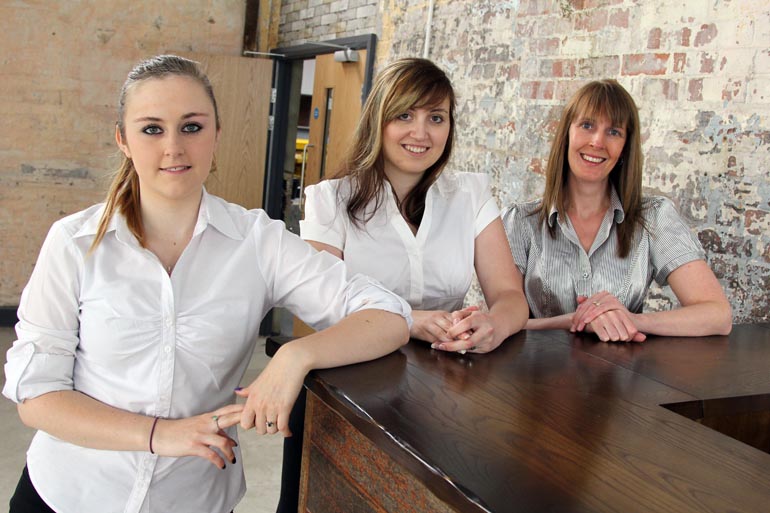 "We're putting a very, very strong team together and I'm so pleased they've come on board, and I think we're going to see great things here.
"I can't see it doing anything other than growing from strength-to-strength."
ROF 59 has been built on the site of the former Presswork Metals factory after Finley Structures invested more than £1.1m in creating the new facility.
Almost £750,000 was spent on constructing a new steel frame for the 70,000 square foot site.
A further £400,000 has now been spent fitting out the inside of the new building, which will include a restaurant and bar/lounge, appropriately named The Blitz and The Bunker.
ROF 59 will also include a huge activity centre, featuring 20 different climbing walls for climbers of all abilities – including one of the biggest in the country, standing at 20 metres tall.
The huge munitions factories in Aycliffe employed some 17,000 workers, mostly women, between 1941 and 1945 and was an extremely important part of the country's war effort.
The work was highly dangerous as the women filled bullets and bombs for the boys in the battlefield. There were a number of serious and fatal explosions, with eight people being killed in one blast.
ROF 59 will eventually include several items of Aycliffe Angels memorabilia which will enable the town's proud history of the munitions-making factories to live on.
Part of an old railway line, used to transport the munitions to the main railway line which was uncovered during foundation works, will be incorporated into other memorabilia features including a model spitfire and archive photographs from back in the day.