Chef Arturas Lapinskas has realised a long-held ambition of becoming a head chef at one of the region's newest restaurants.
The Lithuanian, who has lived in County Durham since taking on a job with Bishop Auckland College in 2009, has been appointed to head up the kitchen at the new ROF 59 complex in Newton Aycliffe.
Born and bred in Lithuania, his love for food started while watching his mum cook when he was a child.
"Lithuanian food is rich in flavour and is very diverse so appeals to his culinary senses in every way," says Arturas, known as "Art" for short.
"I remember the very first meal I ever made, cold beet soup or saltibarsciai and how proud I was to impress my mum. After this I wanted to cook more and more!"
Arturas also recalls helping his grandad to prepare and smoke their home-reared pigs, learning invaluable butchery skills from a very young age and how to utilise every part of the animal, with smoked pig ears a particular favourite.
At the age of 19, Arturas first took the leap to England when he moved to Kent, where he held his first job in the UK picking strawberries.
He moved to the North-East to be nearer his partner's family and started a training course with Bishop Auckland College in 2009, where he qualified and took his first cooking job.
Since becoming qualified he has held roles as a chef at Jersey Farm Hotel in Barnard Castle and junior sous at Rockliffe Hall in Darlington, before taking a sous chef position at the Talbot in Bishopton.
As a husband and father to two daughters, Arturas is already sparking their interest by cooking and baking with his girls when he's at home.
Now the 31-year-old is relishing his new senior role at The Blitz restaurant, within the ROF 59 leisure complex on Durham Way South, Aycliffe Business Park.
"It's not like any other venue in the country," says Art, who studied English and Russian languages at University before moving permanently to the UK in 2006.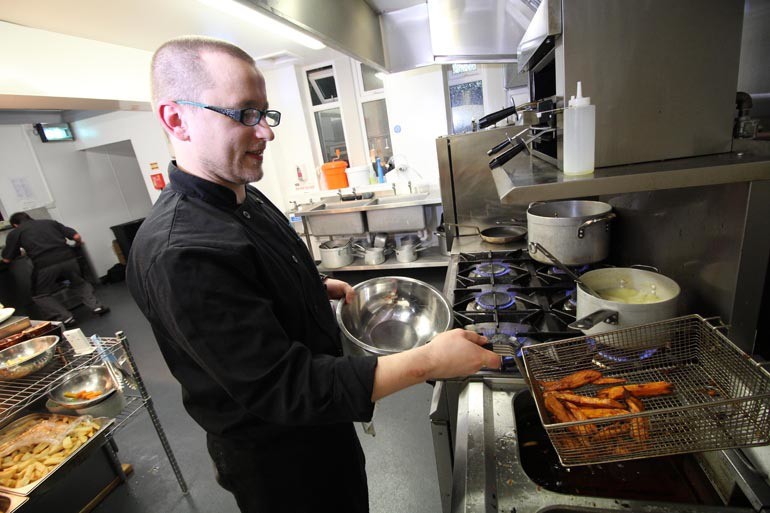 "It has a unique style and environment. It's not just the restaurant which is attracting people because of the quality of the food and service, but the activities are appealing to a wide audience.
"It's a great venue for all the family, in addition to the Blitz restaurant the Bunker bar lounge has a lovely relaxing atmosphere where visitors can enjoy a coffee and cake or a glass of wine or beer which makes this venue very different from others."
ROF 59 has been built on the site of the former Presswork Metals factory after Finley Structures invested more than £1.1m in creating the new facility, which created 15 full-time and 15 part-time new jobs.
Almost £750,000 was spent on constructing a new steel frame for the 70,000 square foot site and a further £400,000 was spent fitting it out.
ROF 59 now includes the Blitz restaurant as well as the Bunker bar/lounge, a huge park of 75 trampolines and a series of adventure climbing walls for climbers of all abilities – including one of the biggest in the country, standing at 20 metres tall.
The huge munitions factories in Aycliffe employed some 17,000 workers, mostly women, between 1941 and 1945 and was an extremely important part of the country's war effort.
ROF 59 will eventually include several items of Aycliffe Angels memorabilia which will enable the town's proud history of the munitions-making factories to live on.
For all enquiries and bookings at ROF 59, call 01325 728222 or email [email protected]