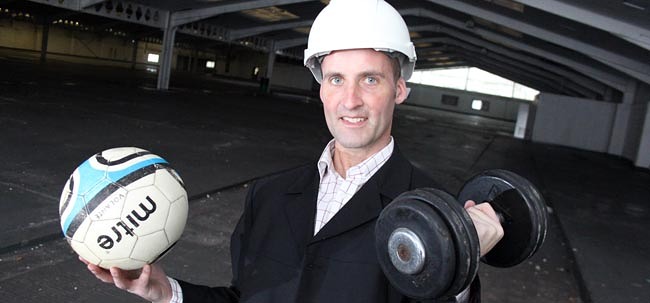 By Martin Walker
A state-of-the-art gym will form part of an exciting £1.5m football facility on Aycliffe Business Park, it has been revealed.
The Soccer Factory now hopes to open its indoor five-a-side complex in the spring after problems with its refurbishment programme caused slight delays.
But bosses behind the new facility are close to agreeing a deal with a leading North East leisure firm to operate the 12,000 sq foot health and fitness club within its premises.
The fitness club, which will be integrated within the seven-pitch Soccer Factory, will include a state-of-the-art fitness equipment, a group fitness studio with an expansive timetable that includes Zumba and spinning, modern changing facilities and the latest functional training equipment.
"The fitness club is a vital part of the operation," said Soccer Factory managing director Dan Lewis.
"More details about it, including the leisure provider, will hopefully be announced some time in the New Year, when works to fit out the gym will start.
"This is a very exciting time for us. We feel the health and fitness facilities are desperately needed on the business park and are looking forward to providing facilities for all."
Mr Lewis explained that problems with roofing at the ageing former Thrislington's building, on Durham Way South, has meant extensive work has had to be carried out.
"It was always a risk which we hoped to avoid, but it's more important to take our time and do the job properly," added Mr Lewis.
"The landlords had originally planned to repair the existing roof, just focusing on the areas that needed attention, but further investigation has revealed the need for more extensive works.
"The plan now is to have the roof entirely overclad, giving it a new skin that will effectively provide a new roof, and 25 years worth of cover for the area below.
"While the delay is frustrating, we felt it was worth ensuring the roof was completely to an appropriate standard so as not to impact upon the business operations after we open."
In addition to the 3g football and health and fitness facilities, the Soccer Factory – which was originally given planning consent in February 2012, will be offering a café and bar facility, as well as conferencing rooms and sports injury support.
It promises to bring 15 new jobs to the town, and along with other leisure facilities on the Business Park ensure Aycliffe becomes a popular destination for people from the whole of the South West Durham area, as well as further afield.
They are also offering a unique investment opportunity for the community, via Aycliffe-based Growthfunders. Full details to follow.
More information is at www.the-soccerfactory.co.uk