A training provider which celebrates its fifth decade in operation later this year has appointed a new leader.
Jason Howe has taken over as general manager of South West Durham Training (SWDT) on Aycliffe Business Park, succeeding chief executive Lee Childs, who left in early August.
The 34-year-old has been promoted from a senior role at Bishop Auckland College, which owns SWDT, to continue the impressive progress which has been made in the last three years.
SWDT, which trains future workforce for several leading employers including Hitachi Rail, GSK, Husqvarna, 3M and Thorn Lighting, will celebrate its 50th year in December.
And former business owner-turned curriculum expert Howe wants to mark the milestone in style.
"There's a lot of history behind South West Durham Training," said Howe.
"It's been supported by a number of organisations and employers over the years, and we celebrate our 50th anniversary later this year, so we have some exciting plans for that.
"Training centres have opened and closed over the years and the fact South West Durham is gearing up for its 50th year is really a glowing testament.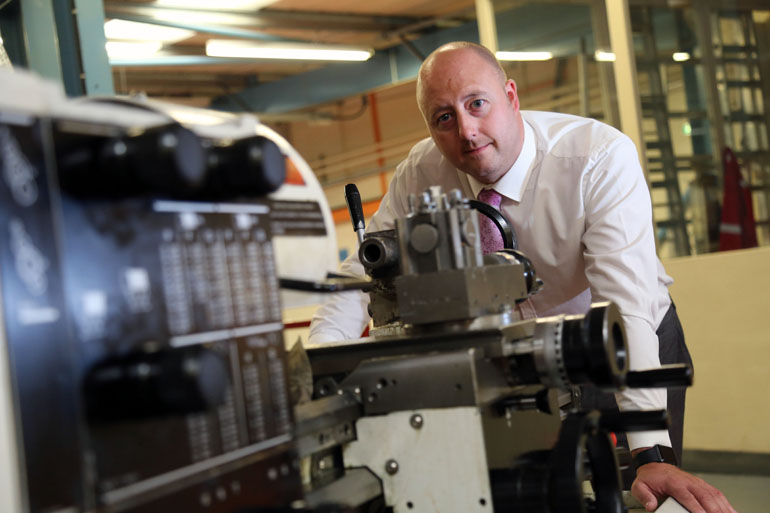 "But the potential is still huge, with the facilities and the staff we have here.
"Right now the aim is to build on the great work that's been done in recent years, in improving what we do and increasing learner numbers. Lee Childs has provided a lot of stability and altered the curriculum to suit employers' needs, which has been crucial.
"The commercial programmes we're running now are very pro-active in what employers want and we're hoping to maintain and improve on the good work that has already been achieved here."
Howe, who lives in Wolsingham with expectant wife Helen and their four-year-old son Elliott, started his career as an apprentice engineer before completing an apprenticeship in carpentry and joinery with a building firm in Weardale.
Soon after qualifying in 2003 he set up his own business, which he ran until March 2008 when he was offered a trainer assessor role with then Sedgefield Borough Council.
He later became carpentry and joinery co-ordinator at Bishop Auckland College before construction lead and then manager of the technology department, covering construction and engineering, motor and building services – the role previous SWDT boss Trevor Alley held before heading in the same direction to Aycliffe.
He has also advised several organisations in a consultancy role, including Hopwood Hall in Manchester and Darlington Borough Council, and he's a quality assurer for City and Guilds.
Howe added: "I can see the potential at South West Durham and the fantastic work that Lee and the team have already done, and I'm relishing the opportunity of continuing that work.
"We're looking to tailor our apprenticeship packages to our employers' needs, which is key going forward, especially with the introduction of the new standards and that we're looking to offer higher education apprenticeships.
"I'm extremely passionate about what I do, and when I see an opportunity I'm not afraid to go for it. I'm also a team player, so while this role is office based I'm not scared of rolling up my sleeves and getting my hands dirty.
"But my biggest strength is curriculum expertise and from a further education point of view – and that's showed in what I've achieved in increasing technology apprenticeship numbers at Bishop Auckland College, sourcing and implementing funding streams to increase curriculum provision."
SWDT is now delivering bespoke apprenticeship packages to accommodate the needs of businesses.
A subsidiary of Bishop Auckland College which employs 27 staff, SWDT also works with Cummins in Darlington, Richmond-based Pipeline Engineering, which is part of the multi-national Circor Group, and car parts maker Nifco in Stockton, and currently has more than 300 learners on its books.
• Find out more about SWDT at www.swdt.co.uk or call 01325 313194.