A climbing facility in Newton Aycliffe has been given a major lift with a £350,000 investment.
ROF 59 activity centre on Aycliffe Business Park has spent the cash to re-launch its climbing area with five exciting new elements.
Bosses at ROF 59, which is owned by local businessman John Finley, have used renowned Lancashire-based firm Entre-Prises to install new climbing facilities for people of all abilities.
With the help of local climbing consultant Nick Pilling, of Redworth-based Mountain Activity Company (MAC), the four-month programme has created two new full-time and 10 part-time roles at ROF 59 after the closure of Rock Antics earlier this year.
Adventure walls, speed climbing walls, a tower climbing area, mosaic climbing walls and 'bouldering' are all now available at ROF 59, with courses and party bookings available in January.
ROF 59 has also appointed Matthew Breadin as its new lead climbing instructor.
Finley said: "It has been a long project and months in the making but we've been determined to make it a climbing facility to attract people of all abilities, and we're delighted with the end result.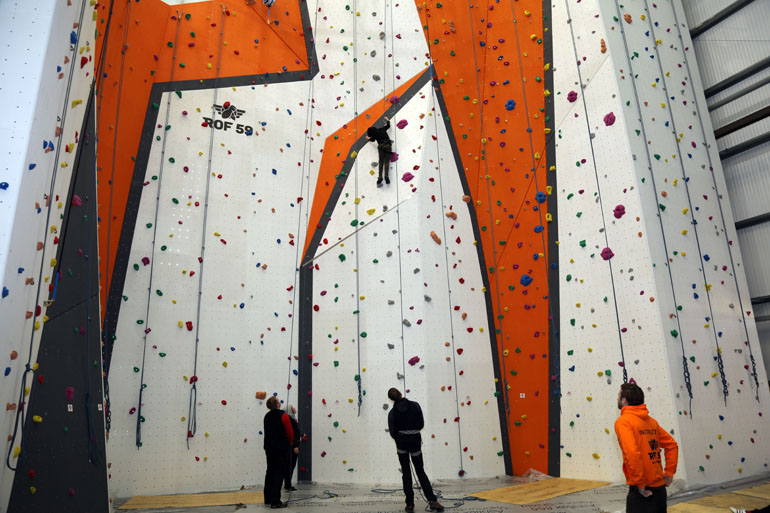 "In Entre-Prises we've used the world's leading manufacturer of climbing walls and holds, and together with the expert guidance of local climbing consultant Nick Pilling we're confident we've created something really special for people who either love climbing, or want to try it out."
ROF 59 now hosts a modern, dedicated indoor bouldering and climbing area for people of all ages and abilities, including dedicated bouldering walls, mosaic walls rising up to 16m, a 21m free jump tower and two speed climbing walls as well as themed adventure walls.
The newly-revamped adventure walls offer an easy access climbing experience to all ages, featuring fun shapes and colours.
ROF 59 originally opened in September 2015 after a £1.1m investment, rejuvenating the old Presswork Metals building and former World War II munitions factory into a 21st Century entertainment and leisure venue.
The 70,000 sq ft centre also includes the 'Blitz' restaurant and 'Bunker' bar/lounge, theme named due to the building's association with the War.
For all enquiries and bookings at ROF 59, call 01325 728222 or email [email protected]