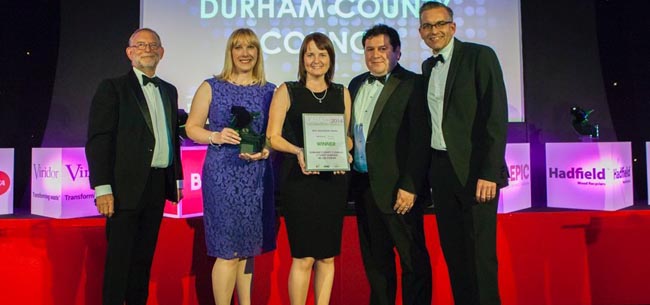 Durham County Council has picked up a national award for a scheme which has seen more than 2,200 tonnes of furniture and household items saved from disposal and provided for families on low income.
The County Durham Reuse forum received the prestigious Best Partnership Award from the LARAC (Local Authority Recycling Advisory Committee), the national local authority watchdog on recycling standards.
The forum, a partnership with the county council, has six reuse schemes across the county and in 2012/13 some 24,000 households received a wide variety of items ranging from sofas and beds to tables and chairs.
They also provided 189 full or part-time jobs with help from 210 volunteers and 84 work training placements.
Terry Collins, corporate director, neighbourhood services, Durham County Council, said: "This award is testament to the hard work and dedication of everyone involved and recognises the very positive feedback we have received from the public and the fact we have been be able to help so many people."
The forum was highlighted as working successfully with partners in providing help and support the county's most deprived communities.
Steve Mitton, of the County Durham Furniture Help Scheme, said: "This award demonstrates the value of the County Durham Reuse Forum and we fully appreciated the support that Durham County Council and our partners give us in supporting our local community."
The reuse schemes within County Durham Reuse forum are:
• Kings Church Furniture Reuse
• County Durham Furniture Help Scheme (CDFHS)
• East Durham Partnership
• Woodhouse Close Church Furniture Project
• Consett YMCA
• Haswell Mencap Furniture Enterprise.
For further information on the forum and how you can donate suitable household items or how you can purchase them, please visit: www.durham.gov.uk/reuse