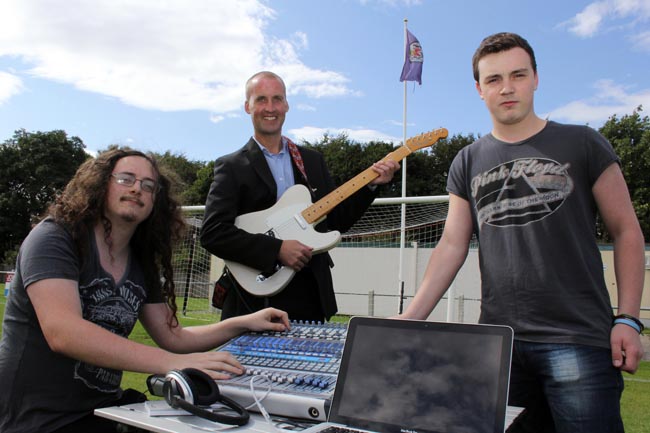 By Zoe Skerrett
A young A-star musician is hoping a new sponsorship deal will help to kick start his business.
After winning a stadium naming rights competition organised by Newton Aycliffe FC, Tom Bussey – pictured (left) with Newton Aycliffe FC general manager Dan Lewis and local musician Lee Wright (back) – has been given the chance to put his company name in lights.
The 18-year-old owns a small recording business in Newton Aycliffe, named Aux Audio, which aims to help local musicians record their music.
Aycliffe raffled off the naming rights to their ground, which is now called the AuxAudio.co.uk Stadium at Moore Lane Park, in a corporate stunt to drum up local business support.
"The sponsorship deal means loads to me," said Tom.
"It has given me a boost in confidence in both myself and the business.
"I know that I can make this business happen with all the backing and promotion from the new sponsorship and I'm so pleased to have won."
NAFC general manager Dan Lewis added: "We're delighted for Tom, we know he's a very talented musician and has high ambitions for his recording studio.
"The stadium naming rights was a great way for us to forge new links with the business community, with more than 20 names going into the hat for this, so from that point of view it was a very worthwhile exercise."
After attending Woodham Academy, Tom went on to study Music, Music Technology, Maths and Further Maths at Carmel College in Darlington and eventually set up his own recording business.
Tom has rehearsal rooms on site and can not only help you with recording an EPs but can also do the sound at your own gig and produce a live CD.
With many local bands already showing interest, Tom would love to make a CD with songs from various local bands to show what Newton Aycliffe has to offer.
In the future Tom would like to study Music Technology at Leeds College of Music, but for now his eyes are set firmly on developing and improving the business.
For more information you check out the website at www.auxaudio.co.uk, or you can call tom on 07935 245921 or email [email protected]
• Businesses interested in getting involved with Newton Aycliffe FC can contact general manager Dan Lewis on 07581 784726 or email [email protected]