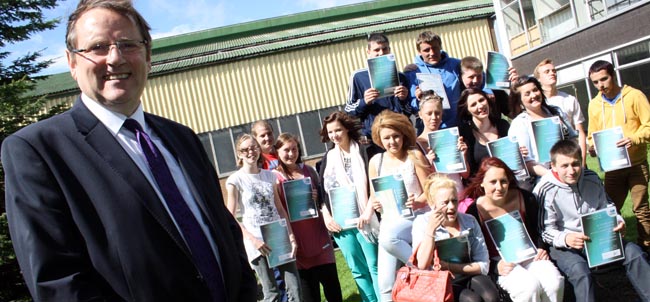 By Martin Walker
MP Phil Wilson visited a group of young learners who've achieved top results on an education programme.
Eighteen young people have been attending DISCs Steps4Success programme.
And Mr Wilson, the Member of Parliament for Sedgefield, joined learners' families and friends at DISC's Horndale House, on Aycliffe Business Park, to celebrate their achievements this week.
He presented certificates to the young people to recognise qualifications and the personal development.
In a Video Interview with Aycliffe Today, Mr Wilson said: "DISC does a really good job to instil confidence in young people who otherwise may not have had any confidence.
GO TO OUR VIDEO VAULT TO SEE PHIL WILSON'S INTERVIEW
"It also gives young people who might have had some difficult times the opportunity to achieve their full potential.
"Some young people can slip through the net, but that doesn't mean they should be written off.
"With the results we're seeing, these people should be given the chance to benefit from all the positive developments that are in the pipeline here, such as Aldi and Hitachi.
"I want to see everyone in my constituency to be given the opportunity to go as far in their lives as they want to."
A parent whose child was graduating at this month's celebration said: "What you do here is amazing, thank you for everything that you have done for my daughter."
One of the learners added: "I didn't like school because it was boring and the same stuff every day.
"When I left I went to college but it only lasted 4 months as I found it too big, too busy and there were too many people.
"I started with DISC's Steps for Success programme in January, dong a BTEC in Construction, specialising in Painting and Decorating. I have got my certificate and am now working towards functional skills in Maths, English and ICT.
"The reason I have stayed with S4S is because; it has got smaller classes, I know everyone, I can get one-one support to help me finish tasks, the staff are more helpful and patience here and I have been given more chances.
"I will be staying on with S4S as I'm going to do my personal social development course as well as my functional skills exams."
How can Steps4Success support you in taking the right steps for your future?
If you are a young person aged 16-18 years old and area looking to develop your skills and gain qualifications in as little as four weeks to open up further education and employment opportunities the please get in touch.
As well as improving your basic skills and employment potential Steps4Success course gives you the opportunity to get involved with lots of practical and fun activities including fundraising for the local community, developing money making enterprise schemes, and experiencing vocational placements.
This year DISCs Steps4Success education programme has achieved:
■ 97% of learners have achieved an award
■ 91% pass rate in Maths
■ 82% pass rate in English
■ 96% pass rate in ICT
DISC is an independent charity based in the north-east, seeking to promote social inclusion, through working with communities in a number of areas including Children, Young People and Families, Independent Living, Drug and Alcohol Misuse and Housing.
Their contact details are:
Address: Steps4Success, Unit 2 IES Centre, Sapphire House, Newton Aycliffe Business Park, DL5 6DS
Tel: 01325 731160
Email: [email protected]
Web: www.disc-vol.org.uk