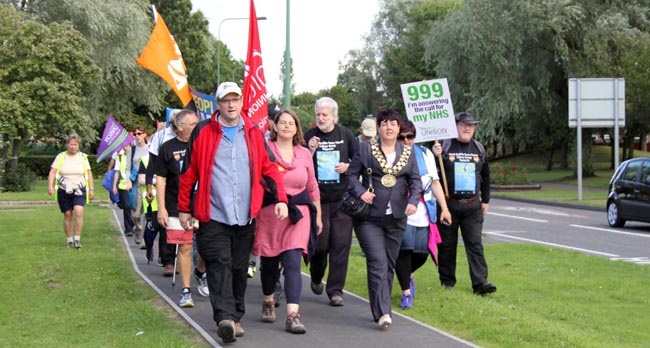 By Martin Walker
A march to Westminster which has hit national headlines passed through Newton Aycliffe this week.
A group of mothers from Darlington are recreating the 1936 Jarrow March against poverty and unemployment in the Great Depression.
The march organisers, known as the "darlomums", say they don't want to "passively watch the rapid dismantling, privatisation and destruction" of the NHS.
About 500 people gathered at Jarrow Town Hall last Saturday as campaigners set off on the People's March for the NHS, which is carrying a petition in support of saving a walk-in facility at Palmer Community Hospital, in Jarrow, from closure.
Forty people are expected to complete the whole 300-mile stretch from Jarrow to Westminster, with campaigners due to arrive in Westminster on 6th September.
The Labour MP for Sedgefield Phil Wilson joined Aycliffe Mayor Wendy Hillary and other councillors and campaigners on a seven-mile section of the march between Ferryhill and Aycliffe on Monday.
See our Video Feature of the 999 Call for NHS passing through Aycliffe
Mr Wilson told Aycliffe Today: "It's just important how we remember that the NHS is central to the social services that are provided by the Government and by the people.
"It's our NHS and we don't want to see it sold off and we don't want to be in a position where we have to pay for treatments.
"It's always been free and that's got to continue. We don't want to see it being pied of to David Cameron and his friends in the city – it's got to be there for everybody.
"I think we should be really proud for the people that aren't just marching like I am between Ferryhill and Newton Aycliffe but are going to march from Jarrow all the way down to London and getting there on September 6th.
"It just goes to show how much passion there is for the NHS and that's got to continue."
Judith Kirtin-Darling, a Labour Member of the European Parliament for the North-East, is completing the march throughout her region.
She told us: "I think it's about sending a clear message that we don't want to see the NHS privatised.
"The government are privatising by the back door and there are a lot of contracts which are going out to the private sector and lots of contracts that are going to Tory party donors who are then being given perks and treats by the conservative party.
"This is one of our best national institutions and it's an absolutely crucial service."
Click here to see our Video Feature.