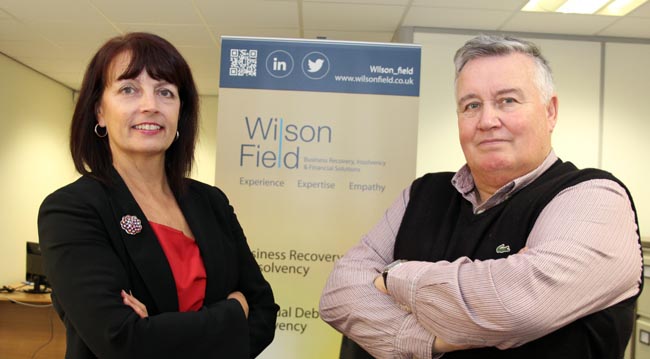 A new business to the region is aiming to change perceptions around insolvency and to help the economy prosper as a result. Business recovery specialist Wilson Field opened its Aycliffe office in the summer. JONATHAN WARD finds out more…
Ever since the earliest days of trading, profit and success have gone hand in hand with bad debt and recovery.
But while insolvency is seen as a dirty word in some quarters, a new business to our region is on a mission to change perceptions and attitudes guiding both individuals and businesses to turn their fortunes around and more importantly, save jobs.
Business recovery specialist Wilson Field recently opened its first office in the North East at Aycliffe, bringing its presence across the country to 10 offices and 90 staff.
Headquartered in Sheffield, Wilson Field has advised hundreds of firms and thousands of individuals on financial recovery saving jobs in the process and bringing renewed hope to frustrated business owners.
Its Aycliffe office will be headed by finance expert Ben Smith, who has advised on mortgages, loans, insurance and corporate finance for more than 30 years.
He said: "In many ways, we are in a specialised, niche industry. It's a sector that could do with a make-over, because people associate insolvency with failure – job losses and factories closing down.
"At Wilson Field, our aim is to increase awareness of who we are but more importantly, we focus on the parts that don't often get mentioned – the things that save jobs and save businesses from going under.
"If people run into financial difficulty, they tend to bury their head in the sand and then perhaps seek the advice of their accountant. It's only when things get really bad that someone may point them in our direction, but it shouldn't be like that because if we can get to a business much sooner, we can start helping much sooner."
Founded in 2001, Wilson Field operates across various disciplines including business recovery, insolvency, personal debt solutions and corporate finance.
With a large team of experienced and dedicated professionals, including licenced Insolvency Practitioners, its close relationships with the professional services sector, help Wilson Field approach each individual case on its own merits with a view to reaching the best possible solution.
The decision to set up a North East office came while Ben realised he shared synergies with Wilson Field regarding how best to manage debt and financial recovery.
He explained: "I first came into contact with Wilson Field when they were brought in to advise on the liquidation of Darlington Football Club in 2003.
"What impressed me was that they were giving honest, personal service and advice which is something I pride myself on. I knew they were a big player in the sector and I knew they were keen to have a presence in the North East, so myself and my business partner Claire Larsen approached them with a proposition.
"They liked us and they liked our proposal. They liked working with us and we liked working with them so it has been an easy and comfortable progression – in a way, it's a very natural fit."
For Wilson Field, the decision to establish the North East office at Aycliffe was an easy one. The company has a philosophy of using local people, who understand the characteristics of the region where they are operating.
Ben said: "We suggested Aycliffe because it's an ideal location with great transport links. It's also one of the biggest industrial estates in Europe with some fantastic businesses.
"Wilson Field know that local people speak the same language as one another. They wanted a team who know the people, know the areas and understand the problems and opportunities. It's about finding the right people and myself, Claire and the team here are born, bred and established in the North East.
"But importantly, I understand people and money and I understand debt very well. I know it's not a thing to be ashamed about. It's a situation that people and businesses can get into and a lot of time it's not their fault, but once they start talking, things start to get better.
"A lot of people get scared as soon as you mention the word insolvency. It's not about making people bankrupt, it's about trying to save the business and turning it around back in the right direction."
Ben will be the public face of Wilson Field in the North East, building up relationships and contacts with businesses, solicitors, accountants, banks and advisers from across the region.
As part of a team of four at the Aycliffe office, he will also be arranging and giving advice on secured loans, bankruptcy and setting up debt management plans.
"We have only been here for a few months but it has gone very well indeed. I have a cracking team here and all the support I need from head office," Ben admitted.
"I really enjoy it, we've been getting stuck into it and building up contacts. It's all about networking and getting ourselves known."
The busy dad and granddad is a proud supporter of Clems Pirates, an over 35s rugby team, which arranges tour matches across the globe spreading the rugby gospel and raising in excess of £50,000 for children's projects in countries such as Namibia and Cuba.
And in a sports mad region, Ben realises that subjects such as football and rugby can often be the clincher when it comes to building up rapport with potential clients.
He said: "I'm in the process of organising a networking dinner with some of the big accountancy and law firms and have some of the England rugby coaches lined up as guest speakers. I am really excited about that one.
"If we can forge strong relationships, then we will be successful. With my contacts and experience, we have made a very encouraging start.
"But much more than that, success is about educating people. This is not the kind of industry where we can market messages saying 'are you in debt or do you need insolvency?' People are not going to respond to that, it needs to be a more personal approach."
Ben is confident that in time, perceptions around business recovery and the dreaded 'I' word will start to change.
But he admitted that signs of recovery within the economy were no reason to be over optimistic.
"Things are getting better, but I truly believe we have only scratched the surface in terms of people and businesses having financial difficulties. People have never been as well off as they are now but when interest rates go up – as they will – we are heading for a big problem," he warned.
"But a safe pair of hands and solid, straight forward advice could be the difference between a business closing or surviving, jobs lost or saved."
From Wilson Field and the team at Aycliffe, the message is clear: 'don't be afraid to call, we will help as much as we can.'
Ben said: "We are a young energetic company, who are not afraid to roll our sleeves up and get stuck in.
"There are a lot of people out there who are very good at their job but not very good at running a business. Often, they go direct to their accountants or solicitors, rather than coming to us. It's a far easier solution but we need to change those perceptions.
"We are not the grim reaper, we are here to help. People are very relieved when we start helping them and start putting them on the right track again. If we can help someone improve their situation, then all the better for them and all the better for us."
For more information about Wilson Field, call the Aycliffe office on 01325 776 552 or visit www.wilsonfield.co.uk