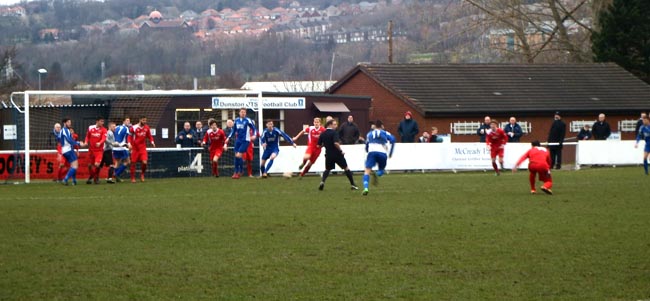 By Bob Wood
There was mixed fortunes for Newton Aycliffe FC this past week as they seek the points needed to ensure they will remain in the First Division of the Ebac Northern League next season.
Last Wednesday night's trip to Bedlington saw a tremendous Aycliffe performance with four goals securing a well deserved victory.
Once again Dennis Knight was outstanding for Aycliffe and his two first half goals set up the win.
The first came after 16 minutes, following a foul on Ashley Coffey. Knight took the free-kick, 25 yards from goal, with the keeper unable to reach with his dive to the right.
Just before the half-hour Jordan Laidler thought he'd made it two-nil but an offside ruling denied him.
The second goal came just a minute later with Knight dribbling into the box, fending off the defenders' challenges. His low shot fired past the keeper and into the net.
With half-time approaching Bedlington contributed to their own downfall.
A disastrous back pass from midfield had the keeper racing to clear but the ball fell to Aycliffe skipper Paul Garthwaite who finished cleanly.
The second half lacked the excitement of the first but saw a fourth Aycliffe goal just after 56 minutess. Stuart Banks latched on to a flick from Coffey and ran on to shoot home.
Boosted by the win at Bedlington Aycliffe moved on to much tougher opposition at sixth-placed Dunston on Saturday.
The home side started positively and Aycliffe's defence were under pressure from the start.
Aycliffe's weak start was punished after 13 minutes when Dunston's captain, Dale Burrell, threaded his way through the defence to score.
Aycliffe fought back and five minutes later a 1-2 between Laidler and Banks gave a chance but Banks' shot was tipped round the post by the Dunston keeper Liam Connell.
On 37 minutes a long ball forward from the Aycliffe defence had Connell racing Banks. The keeper got there first just outside his box and while some Aycliffe supporters felt he'd used a hand the referee ruled otherwise.
Just before the hour Dunston got their second goal following an unfortunate slip from Dan Mitton allowed the opposition forward a clear run on goal.
With five minutes to go Aycliffe pulled a goal back. Dennis Knight took a run down the right and into the box, firing a shot across the goal and into the net.
In the final few minutes Aycliffe tried to grab an equaliser but the home side hung on for the win.
Two home games now follow and Aycliffe will be hoping to edge over the 40-point mark and close to safety.
FIXTURES
Tues 17th March: Consett (H) 7.30pm
Sat 21st March: Morpeth Town (H) 3pm
Sat 28th March: Guisborough Town (A) 3pm
Tues 31st March: Ashington (A) 7.30pm (League Cup semi-final)
Sat 4th April: North Shields (H) 3pm
Sat 11th April: Ashington (A) 3pm