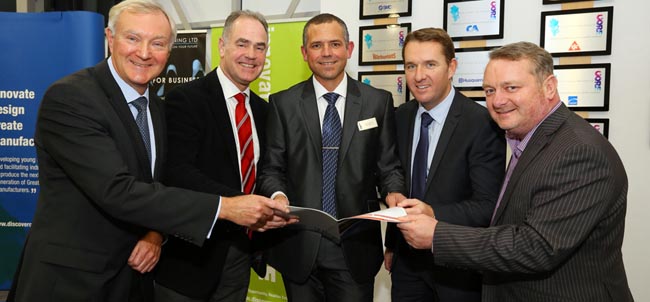 By Martin Walker
Training Institution South West Durham has clocked up its 45th year with a special celebration in the town.
The specialist training centre, on Aycliffe Business Park, celebrated 45 years of nurturing engineering talent with a reunion event on Wednesday.
Comedian Vic Reeves and Stewart Wingate, chief executive of Gatwick Airport, are among the thousands of engineering apprentices who cut their teeth at South West Durham Training (SWDT).
The facility, which specialises in courses for the engineering and manufacturing sectors, held a reunion event attended by alumni such as Mike Matthews, managing director of Nifco UK in Eaglescliffe near Stockton, Caroline Robinson, MD of Husqvarna in Spennymoor and Mike McCabe, the former plant manager of Cummins Engines in Darlington.
Charl Erasmus, former head of operations at SWDT who has become the centre's new chief executive, said: "The celebration event was a chance to enjoy a bit of nostalgia, while also recognising the achievements of our class of 2012."
The centre, which last year opened a £3.6m extension, produces about 100 apprentices every year and delivers short courses to hundreds of adult learners.
The event included a speech from former SWDT apprentice Gareth Berry, now vice-president of Electrolux Major Appliances, and from Terry Scuoler, chief executive of EEF, the manufacturer's organisation.
Gareth said: "The team at SWDT really instilled a strong work ethic in me, and that has stuck with me right throughout my career."
● Pictured above (L-R) is: Terry Scuoler (chief executive of EEF), Steve Rose (SWDT chair), Charl Erasmus (SWDT chief executive), Gareth Berry (vice-president of Electrolux Major Appliances) and Dave Spensley (SWDT vice-chair). Picture kindly provided by Keith Taylor (www.cameracraft.co.uk)