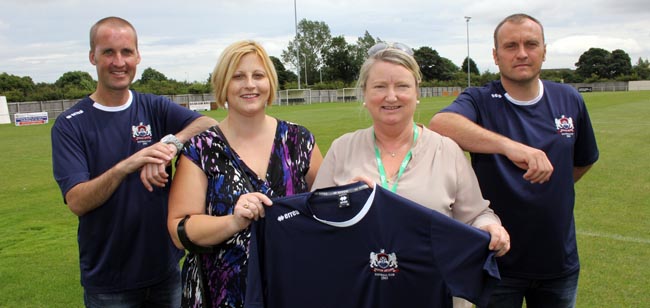 Newton Aycliffe FC hosted Northallerton Town FC on Saturday in the annual Frank Swinburne Memorial Trophy.
This year, the game was held to raise funds for Great Aycliffe Cancer Support Group, who are supported by Macmillan.
The day raised just short of £500 for the group, a sum that organiser Allison White was delighted with.
"This will make a huge difference to our group," she said.
"I would like to thank Newton Aycliffe FC and everyone who kindly donated on Saturday".
Newton Aycliffe General Manager Dan Lewis was equally pleased.
"We're delighted that such a special day for our Club, remembering one of our most loyal supporters and committee men was able to help the people local to our Club who are suffering from cancer themselves. I am sure Allison will make sure the cash is able to make a real difference to these people"
And the game itself was also a success, with Newton Aycliffe running out 4-1 winners to retain the Frank Swinburne Memorial Trophy.
The Great Aycliffe Cancer Support Group is held on the first Thursday of every month at Neville Parade Community Centre, 6-7.30pm. For more information regarding the group, Allison can be contacted on [email protected] or 07762258696