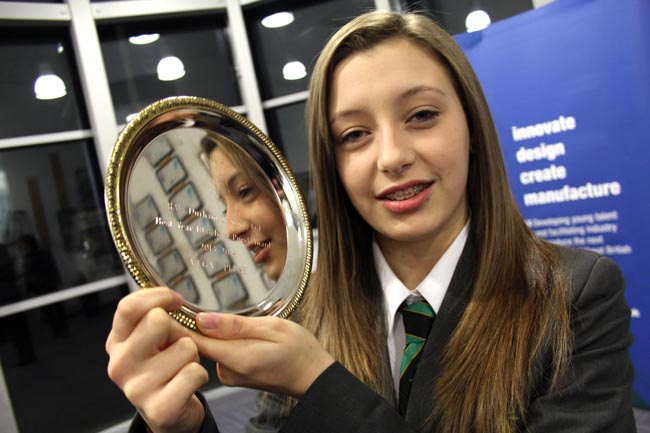 By Martin Walker
Woodham Academy student Megan Pluse picked up an engineering award at South West Durham Training's annual presentation this week.
Megan was named Best Year 10 School Pupil at the training-provider's special event on Wednesday night.
The school's deputy head teacher Jonathan Lumb, pictured below with Megan and her award, told Aycliffe Today: "We're very proud of Megan.
"She's done some fantastic work down here at South West Durham and thoroughly deserves this.
"Megan very resilient and really hard-working, and it's great to see a girl get an engineering award and doing so well.
"She's a real role model for the other students.
"She was up against 16 boys in the class so to see her get this award ahead of the boys is excellent – I think she'll go a long way in engineering."
Mr Lumb thinks the image of Apprenticeships is changing rapidly – young people are now being encouraged to take the earn-as-you-learn route and Woodham has been working closely with SWDT over recent years.
The school also holds an annual Apprenticeship Awareness Programme, where year 9 students are teamed up with local firms and go head-to-head in an engineering competition.
"I think the image of Apprenticeships is very much changing in schools," said Mr Lumb.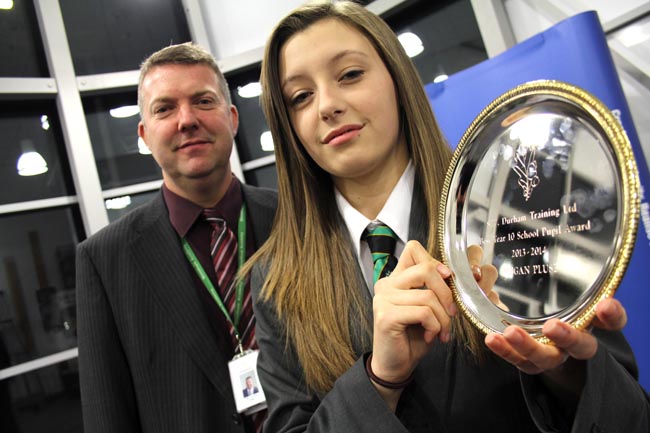 "The work we're doing with South West Durham is working very well.
"It's been going for three or four years now. It's nice for the young people to get away from the school setting and come down to South West Durham and enjoy some really top-class facilities.
"Megan actually did some engineering work with South West Durham back in year 8, two years ago, and that's when her desire to go down the engineering route has come from."
Former SWDT Apprentice Colin Thirlaway, director of global product compliance for Stanley Black & Decker who was a special guest on Wednesday night, told us: "I was delighted to see Megan win her award.
"We have lots of good female engineers who have come to South West Durham, they've done their training and they're now rising up through the ranks of the business."