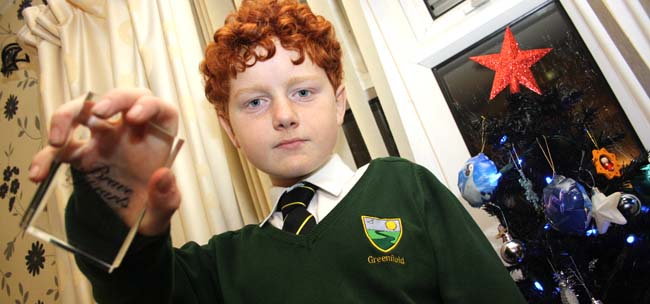 By Martin Walker
Conor Radford isn't your average 11-year-old.
The Newton Aycliffe youngster picked up an ITV Brave Heart Award at a prestigious ceremony at Newcastle United's St James' Park last Thursday.
But the fact he's been acknowledged for his bravery, after a gruelling six-year battle with an evil bone marrow disease, is like water off a duck's back.
The year seven Greenfield School pupil looks almost embarrassed, shrugging his shoulders, when asked about an award he so thoroughly deserves.
"I don't know what to think, really!" said Conor, pictured with his Brave Heart award.
"I don't think of it as being brave. I just got on with it.
"Being poorly was exhausting and I'm looking forward to Christmas for the first time in a long time."
Conor has suffered from Aplastic Anaemia and Arthrogryposis for the last six years.
He has undergone chemotherapy, radiotherapy and had to have a bone marrow transplant last November.
Despite his ordeal, he has remained upbeat and cheerful throughout, and was nominated for the Brave Heart award by one of the Clic Sargent carers at Newcastle RVI.
"We're so proud of him," said his mum, Sarah.
"He just takes it all in his stride. When he was poorly it just became part of his life, he just got used to it and got on with it.
"The hardest thing was telling him he couldn't go out and play, or he couldn't even have ice cream, because his immune system was so low, it could kill him."
Conor's operation, carried out a year ago last week, was nothing short of a miracle.
The Anthony Nolan Trust eventually tracked down a bone marrow match, from a 23-year-old man in the US. His bone marrow had to be harvested, flew to London and then on to Newcastle and transplanted, all within an unbelievable 24-hour timescale.
The operation saved his life, and Conor's parents would welcome any donations towards the Anthony Nolan Trust.
Come back to Aycliffe Today on Friday, to read the comments of Conor's proud dad, Jason.