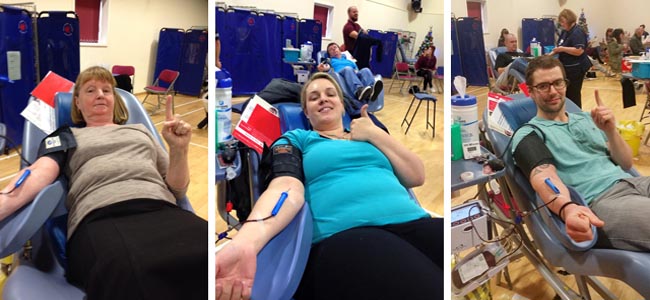 A festive 'Blood Drive' in the name of Newtonian Paul McGeary resulted in a large number of donors and several people being asked to return in the New Year.
Becky McGeary's 'Driving Home for Christmas' appeal gathered momentum in the build-up to a big Christmas Eve push.
With four volunteers having already given blood under the #NotOneInch appeal – Andrew Longstaff, Michelle Bowey (Durham), Lee Stenson and Claire Wallace (Liverpool) – more turned out to do the same the day before Christmas.
Woodham Community Centre saw many walk-in donors on Christmas Eve, with a remarkable 12 under Becky's appeal alone.
They included Becky, Paul's mother Mary, Holly Larman, Samantha Fleming, Kim Gauci, Kayleigh Brown, Jonathan Clarke, Gareth Hodgson, Steven Hawman, Carl Hawman, Adam Meggeson and Emma Yaxley.
Others were asked to return for future blood donor dates in the New Year.
Becky said afterwards: "It was a proud day, and something I am happy to create and spread awareness of.
"The financial donations are all well and good from research perspective, but this is giving something directly back, and at what is a tricky time of the year.
"There are other people throughout the country who have looked in advance and are booked in under the appeal for the New Year, and we urge everyone else to seek the marvellous opportunity out. It is a very proud day for me."
You can find out where, and when you can give blood by visiting www.blood.co.uk and entering your postcode on the website.
Any donor's inspired by Becky's appeal are urged to contact her (07810 423201) with their details, and a photograph if possible.