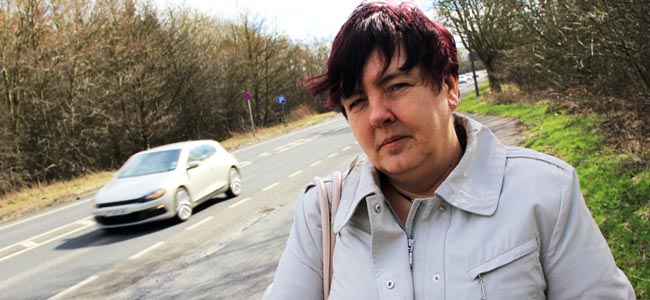 By Martin Walker
Newton Aycliffe's Mayor has hit out at Durham County Council's decision to cut street lighting along the A167 after it emerged three sets of lights were off when a serious accident happened on Friday night.
As reported on Aycliffe Today, a taxi and a van were involved in a serious collision on the busy road at a spot in between the Gretna Green pub and the Central Avenue junction in Aycliffe at about 8pm on Friday.
One man was air-lifted to James Cook Hospital in Middlesbrough with serious injuries while another man was taken by road to Darlington Memorial Hospital.
Cash-strapped Durham Council recently announced cost-cutting plans to remove lighting along the A167 from the A1 to Durham.
The move has been met with angry protests from Aycliffe businesses and residents.
But, more alarmingly, it has emerged today that the area in which Friday's accident happened was in complete darkness due to three lights not working.
Aycliffe Mayor, town councillor Wendy Hillary, who lives near the A167 and saw the aftermath of Friday's accident unfold, says it's proof of how dangerous the road can be without lighting.
In a Video Interview at the scene with Aycliffe Today, Cllr Hillary told us: "For a few weeks now three street lights have been out here.
"They have been reported but haven't been repaired. I don't know why, all I can assume is that it's involved in the plan for the removal of the lights along the A167, and this is the exact stretch.
"It seems to be as the lights are failing now, before they've even started the removal, they're not maintaining the lights, and I pray that it hasn't contributed to this accident.
"The lay-by's are unlit and lorries do stop there when the drivers need a break by law, but if they're going to be in darkness how are the other vehicles going to see them?
"I just think it's so, so dangerous. Us as residents here, it's the mental thing of seeing that and worrying about the people involved in the accident.
"We have to witness that, as well as using the road day-in day-out.
"There has been a letter sent to the (Durham) council, we're waiting for a response from them.
"From the town council, we're not happy with this and we're raising the issues and bringing up points of what could happen, and what is happening. Whether they listen or not, I don't know."
The busy road was closed until the early hours of Saturday morning after Friday night's accident, when three ambulances, three fire engines and several police cars attended the scene.
The two vehicles – a Skoda Octavia and a Mercedes Sprinter – collided at around 8pm and it's thought one of them ended up under a stationary lorry which wasn't involved in the initial collision, while the other came to a stop in a ditch.
"All along this stretch was blue lights, it was like Blackpool illuminations, and I knew there was something major going on," said Cllr Hillary.
"It's the pain and trauma involved with it, it wasn't a pretty site."
Durham County Council was today unavailable for comment.
Go to our Video Vault to see our interview with Cllr Hillary.