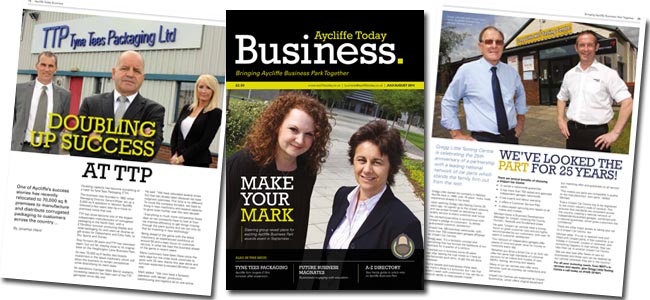 We're now working on the next issue of our popular business magazine, which gives companies a chance to market direct to 250 other firms on Aycliffe Business Park.
The July-August issue of Aycliffe Today Business was our best yet, and we already have a stack of exciting features lined up for the September-October edition.
Space is available from as little as £150 for a quarter-page advert, £250 for a half page or £500 for a full page.
And professional content isn't a problem!
Our trained journalists can write your copy, or if it's an advert you're looking for our designers can look after that for you, too – at no extra cost.
You can also complement an advert with an editorial feature, with some special discounted rates.
So you can have a half-page ad sitting next to a half-page editorial for just £450, or a double-page spread for £800.
You're also able to use our images, design work and words for your own purposes
Aycliffe Today Business is a unique, unrivalled publication for Aycliffe Business Park, with a circulation of 2,500 – 250 of which are mailed direct to every company on our database.
Previous copies can be read online by clicking here.
To find out more, call Martin Walker on 01325 728024, or email [email protected]