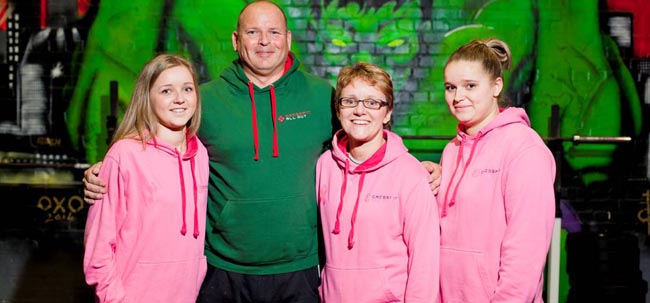 By Martin Walker
Charity cash has been raised by one of Newton Aycliffe's popular gyms for one of its members.
CrossFit All Out hosted a charity workout at its site on Aycliffe Business Park to raise awareness of breast cancer earlier this month.
The event was organised in tribute to member Mandy Turnbull who recently underwent a double mastectomy.
Mandy, pictured above with her husband John and their daughters Claire and Emma, was cleared of breast cancer eight years ago, but was then told this year that she had a 50% chance of it returning.
She went ahead with a double mastectomy and reconstruction to reduce her chances to 3%.
"We wanted to do something a bit more than send flowers," said CrossFit director Vikki Anderson.
"After speaking with her husband John, we loved his suggestion of hosting a charity workout for anyone to attend in support of the charity, www.againstbreastcancer.org.uk, and raise awareness of the importance for women to check themselves regularly for signs of breast cancer."
CrossFit raised £127 from the event and are planning another fundraising workout in December.
For more details contact CrossFit All Out on 07788 123321 or email [email protected]