Despite not shining academically, the chief executive of Tekmar Group has had an incredible rise to success that began as a schoolboy entrepreneur. Peter Barron talks to James Ritchie…
Even as a schoolboy, James Ritchie had an eagle eye for business. Accompanying his grandmother to car boot sales as a 10-year-old, he remembers making an early profit by selling Action Man figures.
"I'd always get there early and whip round the stalls to check out the best buys," he smiles, adding that Game Boy accessories were another reliable source of income.
Today, those natural business instincts have led to James being CEO of Newton Aycliffe-based Tekmar Group, having proved himself to be quite an action man himself.
From car boot sales, the journey to the boardroom continued as a 13-year-old when he made more money by washing cars in local villages, before he progressed to installing vending machines in riding schools.
By the time he was 16 and still studying at Barnard Castle School, he'd already set up a company – One Visual – that had a turnover of £1m-a-year by supplying audio visual equipment to businesses.
"I wasn't academic, in fact, I was dyslexic, but anyone who knew me growing up could see I had a hunger for business," says Darlington-born James, the oldest of three children.
At 21, he led a management buy-out of Tekmar Energy and within seven years, he'd become the youngest CEO of a company listed on the London Stock Exchange.
"Why have I been successful? It's down to luck," he insists.
But with Tekmar Group continuing to grow, despite the coronavirus pandemic, and employing more than 200 staff at 17 locations across 12 countries, there is clearly more to James Ritchie than mere good fortune.
"OK, you've got to make the most of your luck and seize the opportunities," he concedes. "But success is mainly about building a fantastic team around you and inspiring them to make it happen. You don't have to know it all."
The Tekmar story began when James's father, Gary, was working as an engineer in the oil and gas business and two Norwegian divers told him they needed better sub-sea tools to work with.
"They described it as being like working in blindfolds and boxing gloves," says James.
Gary's response was to set up a company called Tekmar Sub-Sea, specialising in innovative cable protection for the oil and gas sector and James started working for the business at 18 while also still running One Visual. The full family name is Ritchie-Bland but James stuck with "Ritchie" to distinguish himself from his father, who is Gary Bland.
The big break came when Tekmar received its first wind farm enquiry and James asked if he could pursue the renewables side of the business. He created Tekmar Energy, which designed and manufactured a unique product – the TekLink Cable Protection System – that safeguarded power cables when connected to wind farms. He wrote a business plan aimed at taking 100% market share within three years and growing turnover to £20m.
Total market share was actually achieved in two years, with turnover already exceeding £25m. In 2010, aged just 20, James began leading the management buy-out, keeping the Tekmar name, while the original group was rebranded as Subsea Innovation and relocated to Darlington.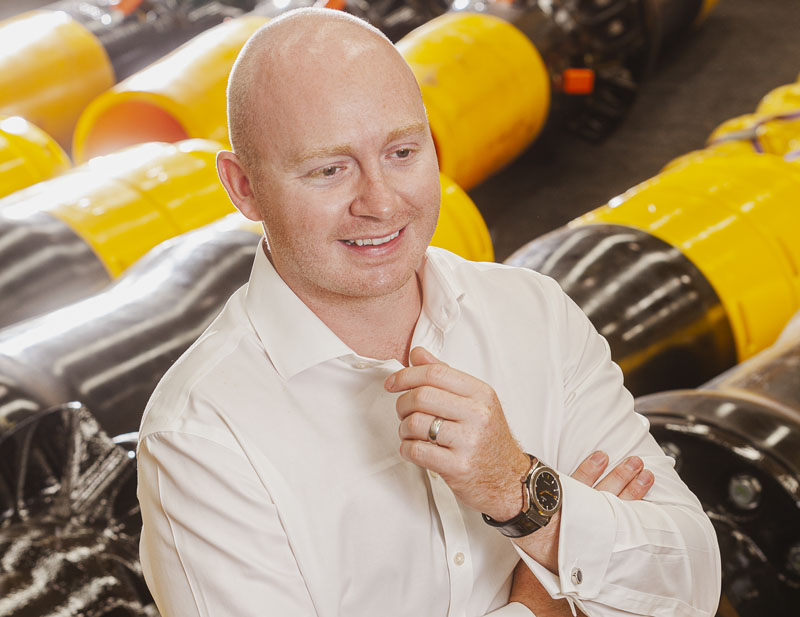 The management buyout was completed within a year and the Tekmar Group – founded in March 2018 – successfully floated on the London Stock Exchange the following June, with a value of £65m. The financial performance in the first year saw a turnover of £28m and that is expected to double in the coming year.
The Tekmar Group now comprises six subsidiary businesses, with Tekmar Energy the biggest and James is convinced the future remains bright despite the global Covid-19 crisis.
"The biggest impact of Covid for us was the shutdown of China. We manufacture goods that export to China – we are a net exporter – but we also import from the Far East, so it was hard," he says.
That said, all of the company's seven UK sites remained fully functional and, although five% of the workforce was furloughed, it was in the interests of social distancing rather than for economic reasons.
"Every business and every person on the planet has been affected by it in some way, but it is a temporary event – a blip – and the sooner we stop talking about it, and get back to some kind of normality, the better," he says.
"We are lucky with the sectors we operate in – especially renewable energy – and, if anything, they might actually benefit from it. With the economy and markets going green, we are primed to take advantage of the opportunities. As CEO, I can be longsighted, and the outlook over the next ten years is very positive."
Indeed, Tekmar has exceeded 20% compound annual growth over the last five years and James is confident of maintaining double digit growth over the next decade, with the consolidation of the subsidiary businesses a priority.
There is also a positive outlook in James's personal life. He and his wife, Nicola, are approaching their first wedding anniversary with a baby on the way. The couple met in Richmond when James was a teenage drummer with a band called Soundbyte and Nicola kept showing up at gigs.
"Looking back, the band wasn't great, but we had fun, and even that gave me a lot of business experience because you have to cover the costs of transport and equipment," he says.
And the hunger he has always had for drumming up new business is still evident, not just with his ambitions to go on growing Tekmar, but in his role as chairman of Energi Coast, a group of leading businesses aiming to maximise opportunities for North-East companies in the renewables sector.
Meanwhile, he is also excited about a new a solo project based on developing a solar energy farm. A new company – Ritchie-Bland Energy – was founded two months ago and he expects to start work on the development within the next two years.
"We are seeing a technological and social revolution around renewables," he says.
"Solar is old technology now, but it has become so costcompetitive, it can be applied on an industrial level and I am 100% committed to that happening here in the North-East."
Just a couple of decades on from trading in Action Man figures at childhood car boot sales, the eagle eyes of James Ritchie are firmly fixed on yet another opportunity.