Aycliffe manufacturers are among a host of North-East companies benefiting from world-class support from the SAM Project. Peter Barron explains what's on offer…
With a wealth of experience in manufacturing behind him, Roger O'Brien is well versed in coming up with innovative solutions that drive businesses forward.
Having spent 20 years with automotive company Gestamp, where he was ultimately UK engineering manager having also been group design and development manager, he is now focused on helping small and medium sized businesses in the North-East remain competitive and look to a sustainable future.
Roger is not only head of The Institute for Automotive and Manufacturing Advanced Practice at Sunderland University, but technical and research lead for the Sustainable Advanced Manufacturing (SAM) Project.
The project, which puts the university at the heart of manufacturing, supports the region's SMEs by giving them access to world-class technical expertise and funding. The aims are to keep them competitive, boost productivity, make them more efficient, and raise their horizons.
Roger leads a team of expert industry practitioners – all from the North-East – with 250 years of combined experience in companies such as Nissan, Black & Decker, Rolls Royce and Gestamp, as well as smaller enterprises.
"Between us, we've seen a wide variety of challenges in our time, and the SAM Project is all about giving SMEs access to equipment and technology they might not be able to afford," says Roger.
"It's about reducing their risk by contributing to the cost of technology, spreading best practice, and allowing them to tap into knowledge of world-class manufacturers."
The SAM Project team covers a broad spectrum of specialisms, including: productivity; quality; logistics; maintenance; factory layout; production engineering; product design; simulation; digital engineering; electronics; additive manufacturing and robotics.
Launched in November 2018, the project received £5.77m of funding from the European Regional Development Fund, matched by University of Sunderland and Industry, to make it a £10.9m programme.
Match-funding grants of up to £50,000 are available at a 35 per cent intervention rate in County Durham (25 per cent in Tyne and Wear and Northumberland) for projects up to £200,000, as well as up to around 90 hours of fully-funded technical support that can be increased for research projects.
The project was originally designed as a three-year initiative but due to the clear success of phase one, it has been extended to June 2023. So far, 160 companies have benefited, with £1m handed out in grants, £47.1m added in gross value, and 290 jobs created.
Around 300 North-East companies have engaged so far, with a dozen Aycliffe companies involved, including Aycliffe Fabrications.
Established 41 years ago, it may not be the biggest company on Aycliffe Business Park, but it is one of the longest established, with customers that include 3M, INEOS, Stiller Warehousing and Distribution, PPG Industries, NSK, and Oberlin Filter.
The business has built its reputation by solving problems through innovative design, making prototypes and bespoke fabrications.
"If industrial customers can't buy it off the shelf, we can make it," says business manager Katie Flanagan.
A prime example of Aycliffe Fabrications' creativity is the construction of the "In Our Image" sculpture of a giant head and shoulders, by Newcastle artist, Joseph Hillier, which stands on the A167 near Aycliffe Business Park.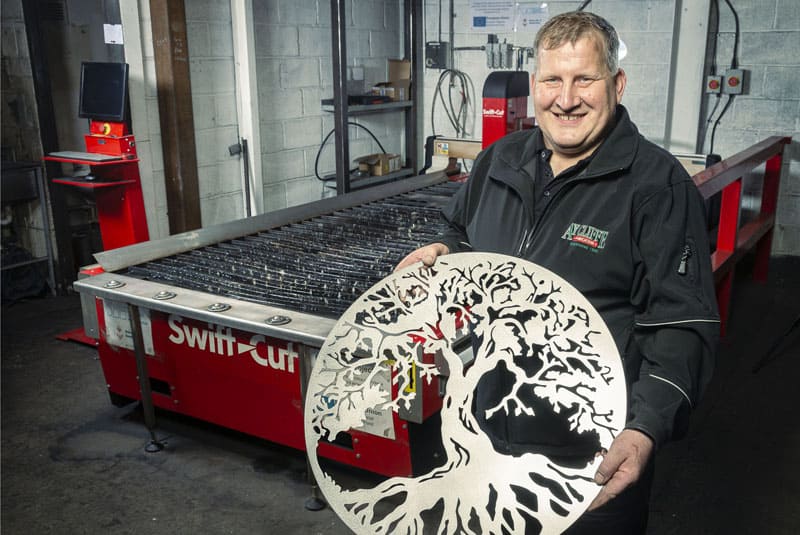 In order to stay head and shoulders above the competition, the business had been considering buying a CNC Plasma cutting machine, but it represented a "massive investment" for a relatively small company.
However, it was able to buy a bigger CNC Plasma machine than had been first envisaged thanks to a SAM Project grant.
"We've had wonderful support from the SAM Project," declares Katie. "It wasn't just the funding, it was the expertise that came with it. They came to the site and produced a report on how the grant would be used and it was absolutely spot on."
The investment has made a "massive difference". The company can now take on different types of work and doesn't have to outsource jobs, with the machine saving turnaround time and making the business more cost-effective.
"It's like having two extra people on the shop floor," says Katie. "It's improved the skill-set of the workforce, opened up new avenues for the business, and that all adds up to us being more sustainable."
Another Aycliffe company to benefit from the SAM Project is Pollite, one of three companies in the Harrison Group, established more than 150 years ago.
Pollite was incorporated in 2009 and gave the group a new dimension, using Glassfibre technology in the production of frangible aviation masts and products that are sold worldwide through civil and defence contracts with numerous airports.
The company's main product is a frangible mast used on runway approaches, but it also makes windsocks and helipad approach masts.
To enhance its product portfolio, and gain market access globally, Pollite developed a new frangible concept for airport cameras towers, which can be up to 17.5m high.
However, the company needed additional technical and financial support to complete the concept. The answer was to tap into resources from the SAM Project, alongside the advanced structures division of a leading UK consulting company.
Due to the complexity of the new system, an external company also had to be brought in to validate the prototype.
It all added up to a significant cost but Pollite successfully applied for a SAM Project grant to accelerate the development, and that was backed up by a technical review that was seen as a "really useful extra pair of eyes".
"Without the support from the SAM Project, there's no doubt that the project would have been significantly delayed," says Peter Houghton, Harrisons Group finance director.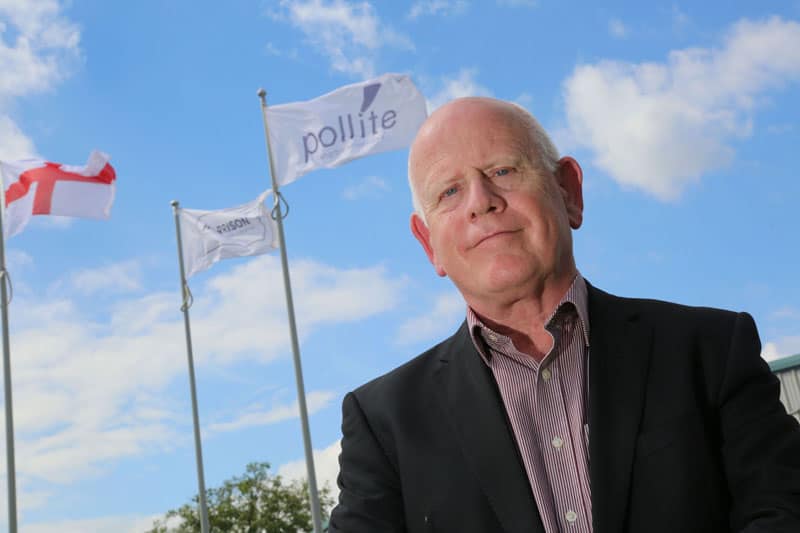 "The support from SAM meant we were able to accelerate our project and get to a point where we could offer this enhanced product. It's opened up new markets for us and definitely added to the sustainability of the business."
Now, Roger O'Brien is confident that phase two of the project will be just as effective, with £1m in grants still available to help companies to introduce new products to the market, with fully-funded technical, process and design support also available.
"The North-East has the largest reliance on manufacturing in the UK, with around 5,000 SMEs, so there's huge scope for us to continue making an impact on the regional economy," he says.
"Businesses have increasingly seen the need to localise the supply chain back to the UK, and that will open up new opportunities for our SMEs. But they have to embrace this advanced manufacturing technology because, if they don't, their competitors will."
The offer of world-class support is on the table – and the message from the SAM project team is simple: "Come and get it".
Pictured top: Some of the SAM Project technical team (left to right): Ian Barrett, Adrian Morris, Richard Eynon, Roger O'Brien, Neil Taylor, Roger Thomas and Rita Potts.