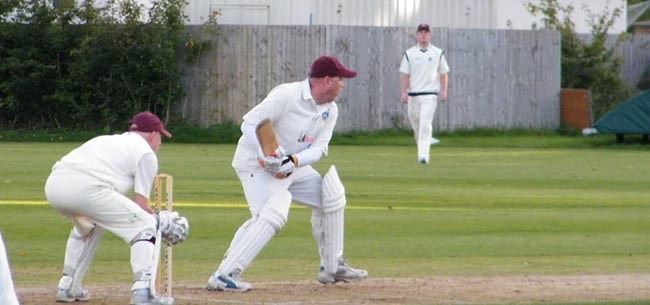 By Martin Walker
Veteran all-round sportsman Tony 'The Bat' Travis racked up his first half century for Aycliffe in the NYSD League.
The fiery 53-year-old – who earlier this year told close pals he was set to leave Aycliffe after being dumped from the first team – thwacked an impressive 56 with the bat as Aycliffe's second XI lost at home to Maltby on Saturday.
But Travis (pictured above), also a keen but not very good footballer, is still said to have the hump with club bosses over his spring snub.
"He isn't a happy chap – not only has he been dumped by the first team, but he's also fuming about the lack of post-match kebabs," a sauce told us.
It was a vintage Travis performance at Aycliffe Sports Club on Saturday as the rotund batsman hit several boundaries to win his first man-of-the-match award in any sport. Ever.
"But he'd swap his MOM award for a pie, any day," added our mole.
James Brown also hit 26 in his first game for seven years, scoring a club record eighth-wicket partnership of 59 with Travis.
But Aycliffe were 140 all out, and Maltby's second XI scored 141 for four from less than 19 overs to win the tie.