She says she feels robbed, but brave Lydia Joss has paid tribute to her diamond husband Phil – who was "everyone's best friend".
Lydia was given the devastating news on Sunday 7th June that Phil, a much-loved soul music fan and keen golfer, lost his life in an accident near Woodham Golf Club.
An emotional Lydia bravely fought back the tears as she remembered her husband, who she met at a soul music gig four years ago.
Having both had previous marriages, they both didn't expect to meet their life partners at the time of their lives.
But after marrying in Whitby in 2012, just a few months after first meeting, they were inseparable ever since.
Until the heartbreaking phone call arrived, when Lydia's brother Tony Norton had to break the news to her.
In the second part of our Video Interview, Lydia said: "It's just been a whirlwind of emotion… it's very difficult to try and explain to someone a grieving process when they've never actually gone through it.
"I've been angry. I was angry with him, I've been angry with other people. I've snapped at people for no particular reason.
"You simply watch life pass you by and kids laughing in the street and people holding hands and I felt robbed. I still feel robbed. He was my absolute soul mate."
Lydia fondly remembers the time she first met Phil. She allows for some humour to help ease the pain.
"I thought he was an absolute idiot to be fair!" she says. "He was lovely but I kept saying to my friend 'oh god he's not my type'. He kept buying me drinks at the big club soul night and I kept doing the magic toilet to get away from him.
"But the following week I went to 60th birthday party and bumped straight into him and he said 'are you trying to avoid me?' And we just became inseparable. We love the same things, we love the same music.
"I'm not a religious person, I don't knock anyone that is but I just feel like how can there be a God who has done this to me? He wasn't a bad person, there's people out there that are so horrible, evil, people in prison for murder.
"Phillip was just everybody's best friend, everybody who knew him loved him and that actually spoke volumes at his funeral. He was such… well… charismatic people used to say.
"He had an absolute heart of gold. He just never had a bad bone in him, he didn't say anything bad about anybody.
"I mean, we were just like any other married couple, we had our ups and downs you know what I mean, we did have the odd barney but he always said he was sorry!
"I mean yes, my daughter's my world, my granddaughter's my world but it's not the same thing, it's certainly a different love for a partner and I just have to live each day as it comes.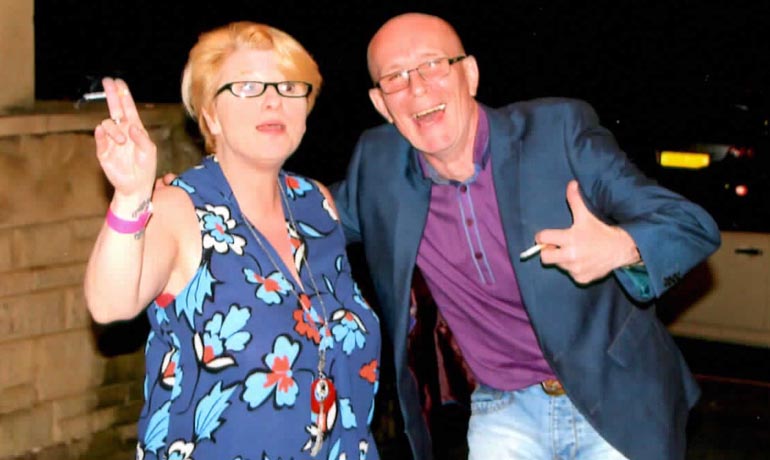 "It's just very, very hard, coming home to an empty house. He just used to put the music on on a Saturday night getting ready to go out and just so full of life, loved everything about the music, he was reliving his youth."
Lydia then recalls a moment when they were out enjoying a meal which summed up Phil as a person, and the time he had for everyone, even strangers.
She says: "We were in the George and Dragon in Heighington and there was a little old man sitting in the corner on his own having his tea, and Phillip got up and went to talk to him, and I thought he knew him. He was saying 'how's your liver mate?' and things like that and he said 'I love it but she won't cook it because she can't stand the smell of it', and he said 'it's very nice.
"So, we got our meal and we were chatting away and I said 'how do you know that little man Phil?' and he said 'I don't', I said 'what do you mean you don't?', he said 'well he's on his own isn't he, so I felt like I needed to go and say hello to him and that'.
"So as the chap left he was sort of 'bye son' and Phillip said 'cya later.' That's just the sort of person he was, he would talk to anybody and talk about anything."
Phil's funeral was held at St Clare's Church in Aycliffe on 18th June, with hundreds of people paying their respects to the popular man.
Lydia added: "As Jeff Miller said in his eulogy, it was the first event that he'd ever been to that Phillip was actually the last person to arrive and the first person to leave, which did make people chuckle in the church, because they all knew what he was like."
Click here to see Lydia's video interview.