Newtonian Lydia Joss has relived the moment she was told her beloved husband had been killed in a road accident.
Popular soul music lover Phil Joss died instantly when the motorbike he was riding left the road on Middridge Road, near Woodham Golf Club, on Sunday 7th June.
In an emotional, two-part interview with Aycliffe Today, Lydia has told how the couple were enjoying a normal Sunday before she went to her brother's for lunch, when she was later told the shattering news.
In the first part of our Video Interview, the 52-year-old, who works at Husqvarna in Aycliffe, said: "Phil had dropped me off in Darlington at around about 11.30am, I did a little bit of shopping.
"He rang me at 12.19 and said he was having a bite to eat then he was going to go on the bike, and I think he went out on his bike at about 1pm.
"I've got a bus back from Darlington at around 1.08pm, and got off at the big club because the bus route wasn't coming this way and thought I'll just nip to see (my brother) Tony.
"So I went to see Tony and he was busy pottering around the house and making a Sunday lunch so I asked him if there was room for a little one and he said 'no problem', so made our lunch, washed this dishes, I went outside for a cigarette and just happened to go on Facebook and I had a private message from Jane Ackley, a good friend of Phillip's was Paul Ackley, Jane's husband.
"The private message simply said 'phone Paul, it's important'. I'd asked Phillip to ring Paul that morning regarding a kitchen, 'cause that's what he does, he's a kitchen fitter.
"And I thought it strange that she'd put important, 'cause I thought if it's about the kitchen then it's not really important. But anyway, I'm a bit of a novice when it comes to mobile phones, I couldn't figure out how to get Paul's number from my private message onto my phone, so Tony said 'I'll ring the number'.
"Tony rang Paul, obviously passed the phone to me, it rang and I answered the phone and said 'Hi Paul, it's Lydia', he said 'has anyone been in touch with you?', I said 'no', thought it was a bit of a strange thing to say but then started to feel in my stomach, something's wrong.
"Paul then asked where I was, because I think he was afraid that I was on my own, and I said I was at Tony's and he said 'can you put Tony on the phone?' So I put Tony on the phone and the next thing I know I was sat in Tony's living room with my head down looking at my feet and I see Tony's feet appear and he just lifted my face up and said 'I think Phil's dead'.
"I just went hysterical and I was just screaming and crying and saying 'What do you mean? You're all lying to me! What do you mean he's dead?!"
Lydia is still awaiting the outcome of an investigation to determine the cause of Phil's tragic accident.
She added: "According to the police reports, Phillip was overtaking a car, he was doing around 55 miles per hour, he certainly wasn't speeding.
"They don't know what happened then, it happened so quickly but the guy in the car, Martin, got to Phillip straight away, phoned the last number in his phone who was Paul Ackley.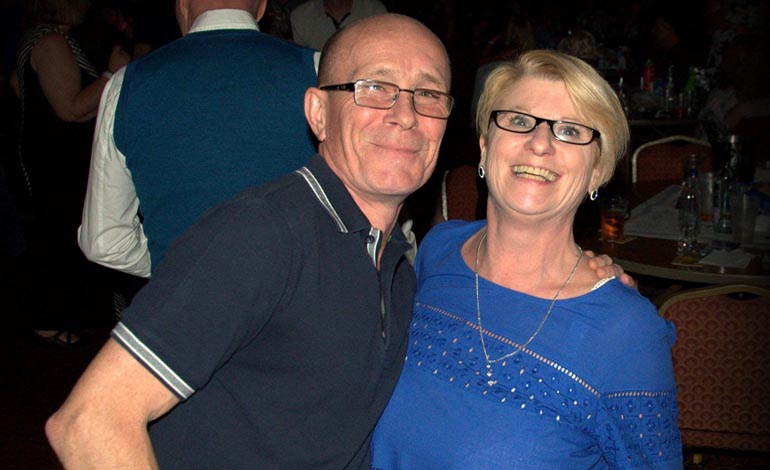 "Paul answered the phone and sort of said 'what do you want now Phil?' So they guy on the phone said 'it's not Phil, who am I talking to?' and he said 'Paul Ackley' and he said 'I'm sorry mate there's been an accident', so Paul had said 'well how bad is it?' and he said 'well as bad as it gets'.
"So obviously this young man knew Phillip was dead. Paul said he could hear the air ambulance in the distance and they do apparently have to try for 20 minutes to save that person.
"The police turned up around about an hour-and-a-half later at Tony's, and by that time the house was full. My daughter was there, my granddaughter… they took me into a quiet room and asked me to describe Phillip's clothes because he didn't have any ID with him.
"And then another police officer came, it was a family liaison officer and just said that there would be an investigation and that they would be back in touch that day because obviously that had to formally identify him and that would be my job or maybe one of Phillip's brothers, because he has two brothers on the town, Graham and Kevin but obviously I wanted to do that.
"It was around 7pm, I was taken to Darlington memorial hospital, to the mortuary and I just saw him there.
"The police said that he wouldn't have known anything about it, it was so quick. And as far as I'm aware there is still an investigation going on."
Tomorrow we'll bring you the second part of Lydia's interview with Aycliffe Today, when she describes him as "a diamond".
Click here to see the first part.