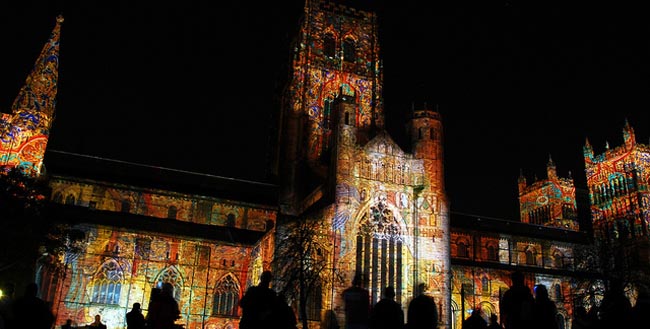 A report to Durham County Council's Cabinet reveals the economic boost brought by Lumiere Durham 2013 and asks members to re-commission a similar event in 2015.
The paper states that Lumiere, an Artichoke production, has become a signature event for the county and that its significance for the business and visitor economy is considerable.
While £500,000 was spent directly on contracts locally to supply the 2013 event, the knock-on impact of these orders further down the supply chain was also of great value.
In addition the world class festival, which was the third Lumiere in Durham, attracted 175,000 visitors over its four days, resulting in more than 20,000 overnight stays in hotels, guest houses and other accommodation.
It also attracted more than £3m worth of media coverage which took the event to global audiences.
Initiated by a £400,000 commissioning fee from the county council, the independent evaluation by culture experts Public Knowledge, estimates a return on that investment to the county of 1,358%.
A survey of visitors to the 2013 event was overwhelmingly positive and demonstrated:
81% rated their experience as 'good' or 'very good'
88% said the atmosphere was 'good' or 'very good'
80% rated the art installations as 'good'
95% said they'd like to see it return to Durham
90% said they would attend if it did
Council Leader, Cllr Simon Henig, said: "Having benefitted from working with Artichoke to see three Lumiere festivals in Durham now, it is clear that the economic boost the event delivers is consistent and significant.
"There are not many business deals which see such a phenomenal return on investment and which allow us to show the world what a fantastic destination Durham is.
"There is also a well demonstrated appetite to see a similar spectacular festival in 2015 and we have been fortunate enough very recently to see that belief endorsed by Arts Council England (ACE) which has agreed to increase its financial support to see Lumiere return.
"We have to be realistic though, to make this happen we will need to match ACE's £500,000 grant in the form of a commissioning fee and even so a significant amount of sponsorship from our partners will need to be raised.
"Lumiere has put us firmly on the world map and has become our signature event. By continuing to work very closely with Artichoke I have every confidence a 2015 event would deliver the sort of benefits we have seen grow so dramatically since the first festival in 2009. I would like to encourage organisations throughout our area to help us to deliver this fantastic event."
The importance of the value for money of Lumiere Durham 2013 was also reiterated by the County Durham Partnership.
If Cabinet agrees the paper a £500,000 commissioning fee would be paid to Artichoke from the authority's remaining Performance Reward Grant (PRG). The council would also commit to a further £100,000 of in-kind support to ensure that the close working and team approach with Artichoke continues.
Members will consider it when they meet on July 16 at County Hall.