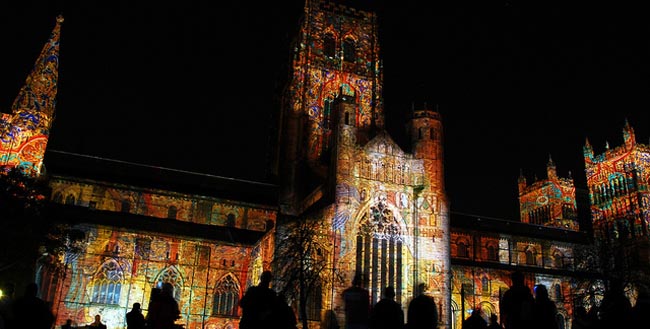 Lumiere, the UK's largest outdoor light festival, is returning to Durham later this year for the fourth time.
Created by Artichoke, one of the UK's leading arts producers, Lumiere is commissioned by Durham County Council and receives additional support from Arts Council England and a raft of sponsors.
This year's event will take place from 12th to 15th November.
The festival brings together the world's most innovative artists and light designers in an artistic programme that is as thought-provoking as it is spectacular. Lumiere will again include creative ideas from people from or working in the North East; and Artichoke has announced an open call for applications under the BRILLIANT commissioning scheme.
Since its inception in 2009, Lumiere has become established as a landmark event in the North East cultural calendar. In 2013, the festival attracted more than 175,000 visitors, 51% from County Durham, 29% from the North East region and 20% from the rest of the UK.
Lumiere in Durham is much more than a four-day biennial. In the months leading up to each festival, Lumiere engages with hundreds of schoolchildren and community groups working on projects in preparation for the event. In 2013, these included sessions in schools about Lumiere's charity campaign, Litre of Light, a Philippines-based project bringing light into homes without electricity. The Other Side of the Wall, a project with all four prisons in County Durham, involved 100 prisoners whose work was exhibited in the Galilee Chapel inside the Cathedral, and subsequently inside each of the prisons.
BRILLIANT – Open call for local people to get creative for Lumiere 2015
Artichoke is again calling for creative submissions following the success of the BRILLANT local commissioning schemes in 2011 and 2013. BRILLIANT offers an opportunity for people living in, or originally from, Durham and the North East to have their idea developed and produced as an artwork, using the medium of light, to be showcased at the festival.
Previous BRILLIANT winners include Durham-based builder Mick Stephenson in 2011, who has since gone on to develop further lightworks and was involved in the creation of the Litre of Light installation as part of Lumiere 2013. Other BRILLLIANT projects have also included a series of neons based on the 11th Century Durham Proverbs by Durham teacher Beth Ross; Twist Design's Stained Glass Cars; and Sarah Blood's neon bird boxes and soundscape, Sanctuary.
Applicants for BRILLIANT 2015 should submit their ideas, together with an estimated budget by Monday 23rd February by midday, 12pm. Light should be at the centre of any idea and anyone can apply – no previous experience is necessary. The most important thing is how BRILLIANT the idea is. The commissions will receive funding and practical support from Artichoke.
Full details about how to apply can be found on Artichoke's website: www.artichoke.uk.com together with suggested locations. Questions about any aspect of the competition should be directed to [email protected]
The two-stage process will be judged by a panel, which will include representatives from Durham County Council, Durham Cathedral and Artichoke. The final awards will be announced in May 2015.
Helen Marriage, Artichoke's Artistic Director said: "It's wonderful to be bringing Lumiere back to Durham for a fourth time, especially during this United Nations International Year of Light.
"We had no idea in 2009 that Lumiere would become a fixture in the region and make the economic impact that it does. It now has a world reputation too.
"As always, the programme will be a nuanced mix of the spectacular and more thoughtful pieces that respond to Durham's architectural landscape. And as always, the work we do locally in the months leading up to Lumiere, in schools, community groups and prisons, will be just as important.
This is a festival that has a legacy. Lumiere is about transformation, of places and perception. It lives on in the memory. It changes lives."
Cllr Simon Henig, Leader of Durham County Council, said: "We are thrilled to be working with Artichoke again and to be bringing what is widely acknowledged as the UK's premier light festival back to the region.
Lumiere is not only a spectacular and breath-taking experience for residents and visitors, it provides a vital economic boost to the county's winter economy. We know it also plays a key role in bringing people back to this area so that they can see more of what we have to offer.
BRILLIANT is a very special part of the festival, drawing on home-grown North East talent. I very much look forward to every aspect of Lumiere 2015."