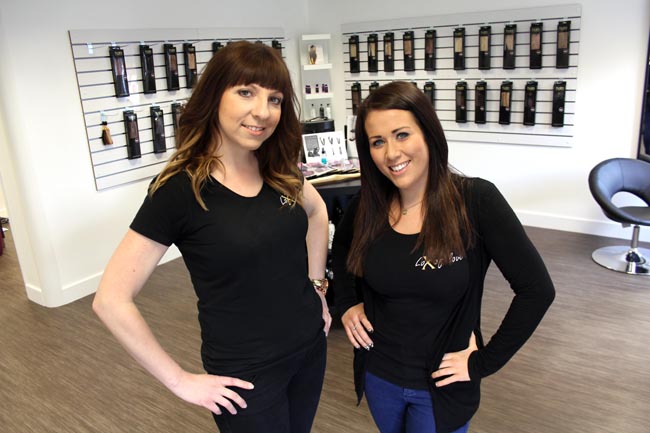 An ambitious hair stylist has tapped into a niche market by opening an exclusive hair extension studio on Aycliffe Business Park.
Newtonian Victoria Cartwright (pictured above, left) launched Lox of Love 18 months ago, offering a mobile hair extension service to clients across the North-East.
But after winning a deal to become an official stockist of world-renowned, award-winning brand, Halo Hair, she has taken the leap to open her first premises and take on a member of staff.
Tamsin Edwards (above, right) has joined Lox of Love as retail and marketing associate, while the studio will celebrate an official opening at their studio, at Evans Easyspace, on Saturday 24th May.
For Victoria, she's rekindling ambitions of starting her own company after completing a business degree at Teesside University. Tamsin is also a Teesside University graduate and a Newtonian.
Victoria is a mum-of-three and had been a hair stylist for 10 years before taking time out to study – and as part of her course she compiled a business plan for a hair extensions company.
"There are a million and one mobile hair extension firms out there and there's also a whole heap of horror stories," said Victoria.
"You speak to any female who has extensions and most, if not all, will have had extensions that they're not happy with.
"Having worn hair extensions for a lot of years, I thought I can do a better job than the bulk of what I'd seen.
"One of my biggest selling points is that I'm a fully-qualified hairdresser. Hair extensions can look hideous if not done properly, and there are a lot of hair extension technicians who'll go on a one-day course and start off straight away with no experience.
"We focus on quality, I think that's why word has spread so quickly about the business. I have built up a client base from all over the North-East, but Aycliffe is on my doorstep and perfectly located."
Victoria had to apply to Yorkshire-based Halo Hair, which stocks across the world including the US and Australia, to become an official stockist.
A Halo is an innovative hair piece that can be applied in minutes to add length and/or volume to most hair styles.
Victoria added: "They looked at our customer feedback and gallery of before-and-after pictures and decided they were happy for our brand to represent theirs.
"Halo Hair has won all sorts of awards for hair and beauty and innovation and is now an international brand."
• Lox of Love's official open day is at Unit 6, Evans Business Centre, Aycliffe Business Park, from 2pm on Saturday 24th May, where there will be discounts, offers and competitions.
• More details are available at www.loxoflove.co.uk