Hair salon Lox of Love is primed and ready to welcome 450 clients a month to their new-look, Covid-ready salon on Aycliffe Business Park.
The hair extension specialists and stylists have been busy making their salon fully safe and ready to welcome clients after a near four-month lay-off.
Lox of Love staff have undergone a series of online training sessions to understand safe working practises for hair stylists.
And the management team at Lox of Love have drawn up a new working schedule, with their staff split into two teams of five working different shift patterns.
It means the salon will be open longer – 12 hours a day from 8am to 8pm Monday to Saturday and 12-4pm Sundays – with each member of the team limited to seeing four customers a day.
Managing director Victoria Mavin says a lot of time has gone into planning a return to operations, with safety for staff and customers paramount.
"It has been a challenging time for everyone, but we're all keen to get back to some sort of normality," said Victoria, who launched the firm eight years ago.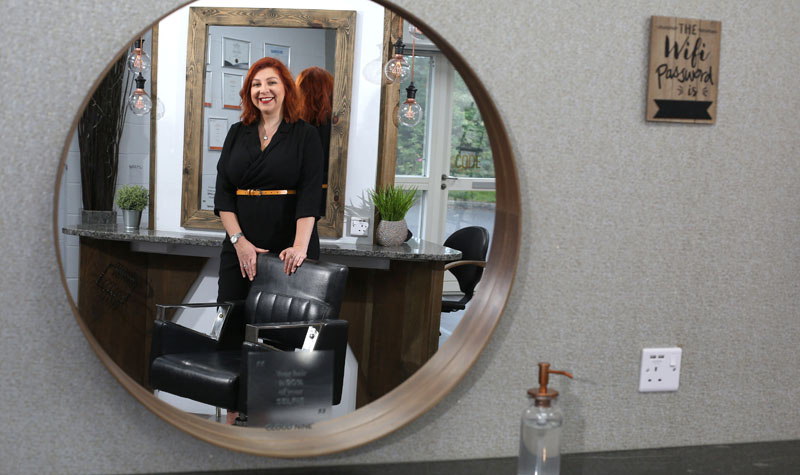 "Our team have been brilliant, they've all been keen to learn new safety measures and have all completed Covid-19 courses through the Virtual College, as well as learning more about the use of Barbicide, which is a widely-used safety product in the hair styling industry.
"We've also spent a lot of time preparing the salon, buying lots more equipment so that each service begins with clean, sanitised equipment, and making sure it's a safe environment for everyone."
Hair salons have been one of the worst hit industries during the pandemic, along with bars and most restaurants.
Victoria added: "Because what we do is so personal, we can't style people's hair without touching them, so we've had to wait patiently until government guidance has allowed us to reopen.
"But, ultimately, the safety of people is our priority, and we're delighted that we can now finally reopen and operate safely for everyone.
"We have 1,200 clients on our books for our Aycliffe salon alone, so you can appreciate we have a lot of customers keen to come in to get their hair done.
"We're looking forward to seeing them all return in time, in what is a very different salon to what it was four months ago.
"And, of course, we really appreciate their patience as we try to accommodate everyone's requirements in unusual circumstances."
Lox of Love's Aycliffe salon is fully booked out throughout July and into the first week of August, with bookings being taken for August and September.
Mum-of-three Victoria, a fully-qualified hair dresser, launched Lox of Love in December 2012, originally as a mobile service which eventually amassed around 500 clients, before opening her own premises on Aycliffe Business Park in May 2014 and growing her database to more than 1,200.
• To book or make an enquiry with Lox of Love, call them on 01325 327362, or for more details go to www.loxoflove.co.uk.