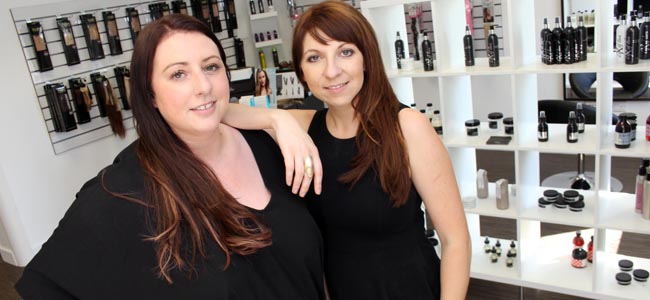 Newton Aycliffe hair extensions specialists Lox of Love have expanded the business already by adding a new stylist to the team.
Newtonian Emma Stevens, pictured above (left) with managing director Victoria Cartwright, has joined the firm at their premises in Evans Business Centre on Aycliffe Business Park.
Victoria, also from the town, launched Lox of Love 18 months ago, offering a mobile hair extension service to clients across the North-East.
Victoria grew the business rapidly, winning a deal to become an official stockist of world-renowned, award-winning brand, Halo Hair, and taking on her first member of staff in marketing associate Tamsin Edwards.
Now she's brought in experienced stylist Emma, previously of Steven Hall hair salon in Darlington, to enable them to expand their service to existing clients and non-extension wearers and help the business to grow further.
"We're very excited to have Emma on board," said Victoria. "She has an excellent reputation and is passionate about hairdressing.
"Having a full hairdressing service is quite unique for hair extension wearers and many salons either don't have the correct training, or are reluctant to cut, colour or style clients who wear hair extensions.
"An additional hair stylist in our team means we can offer our clients a full service which will maintain the quality of extensions throughout the period they are worn.
"We're thrilled at how quickly our additional hairdressing service has already taken off."
Emma added: "I'm delighted to be joining an enthusiastic and ambitious team at Lox of Love.
"I've been very impressed by Victoria's ambition to grow the business and I'm proud to be a part of the team and offer new services to clients."
Victoria is a mum-of-three and had been a hair stylist for many years before taking time out to study – and as part of her course she compiled a business plan for a hair extensions company.
She had to apply to Yorkshire-based, award-winning Halo Hair, which stocks across the world including the US and Australia, to become an official stockist.
Lox of Love, based in Unit 6 at Evans Business Centre on the business park, offers a range of elite brand styling tools including Cloud Nine, as well as clip-in extensions and hair pieces from Halo and TOWIE star, Lauren Pope's Hair Rehab London range.
To book or make an enquiry, call them on 01325 327362 or go to www.loxoflove.co.uk or Facebook/loxoflove