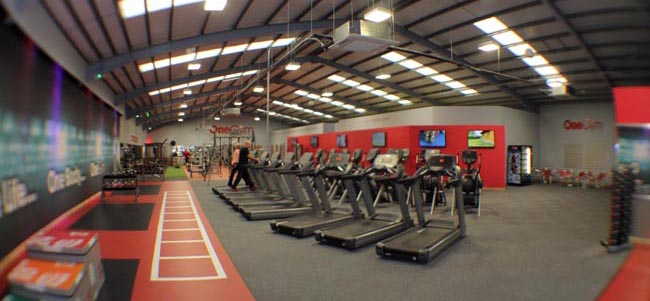 By Martin Walker
A state-of-the-art low-cost gym is now open for business in Newton Aycliffe.
OneGym has opened its doors on Aycliffe Business Park after an extensive, four-month refurbishment of its premises on Durham Way South.
Click here to see our video showing OneGym's new Aycliffe facility
See our picture gallery below
Paul and David Pearson opened OneGym in Bishop Auckland in 2012, offering users access to all the latest fitness equipment without costly add-ons like swimming pools and saunas that they don't necessarily want to use.
And having attracted healthy membership numbers at their first fitness facility, the brothers have now opened a second, much larger OneGym in Aycliffe, while members of OneGym can use both facilities using their same ID card.
Eight new jobs have been created at the new 12,500 sq ft fitness centre, which has facilities for fitness classes as well as a gym in which more than £150,000 has been invested in installing the latest Cybex exercise equipment.
The low-cost gym business model was originally established in the US and mainland Europe, with membership costs kept significantly below those charged by leisure facilities in hotels or 'lifestyle' gyms.
Having proved that the concept works in the North-East, the OneGym management team remains ambitious about extending their brand presence to further parts of the region in the next few years.
Managing director Paul Pearson, who has a longstanding background in the regional health and fitness industry, said: "We were always very confident that OneGym would be a hit in the North-East, and comfortably surpassing our membership targets for Bishop Auckland has shown our expectations were well founded.
"We can keep membership costs down by cutting out all the added frills that gym users don't necessarily want, but end up paying for anyway elsewhere, while still offering the top quality equipment and changing facilities that people expect and tailoring the way we operate precisely to meet users' needs.
"We've wanted to open in Newton Aycliffe for a long time and think the demand will be just as strong as we've had previously, especially from all the businesses that are right on our doorstep."
Dave Pearson added: "We've already attracted the sort of membership numbers we expected at Aycliffe and we expect them to pick up gradually as the word about our facilities gets around."
The original launch of OneGym was funded through an investment from regional fund management firm NEL Fund Managers via the Finance For Business North East Growth Fund that it administers, as well as by further capital from NatWest Bank and the firm's management team.
Give OneGym a call on 01325 317005 or go to www.onegymfitness.com