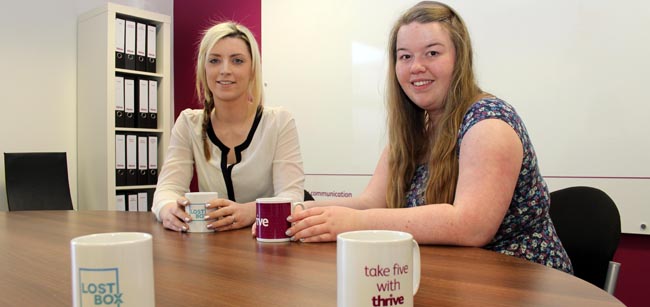 Thrive Marketing has been supporting local lost and found company in their content marketing, since Lostbox won Aycliffe Business Park's Achieve Your Dream competition in early 2014.
With a view to build their online marketing strategy and brand further, Thrive's Managing Directors, Rachel Townsend Green and Johnny Woods, have formed a close bond with Lostbox Founder, Clare Owen.
At the time of her Achieve Your Dream win, Clare (pictured above, left, with Sarah Burns from Thrive) told Aycliffe Today: "Winning Achieve Your Dream 2014 has been the icing on the cake of what has been a busy and successful 12 months.
"We're extremely excited for the future and thrilled to have an opportunity to work with professionals in each area of our business, to catapult Lostbox to the next phase of growth."
The £100k business support package that Lostbox won as a result of winning Achieve Your Dream, included Thrive's brand development and marketing support from their in-house creative and content teams.
Since then, Thrive's Inbound Marketing Manager, Sarah Burns, has joined forces with Clare to produce a long-term content marketing plan for Lostbox's blogging strategy.
With over 20 blog posts already posted, Lostbox has seen some fantastic feedback and new contacts approach them having spotted their widely-distributed blog posts, while Thrive's design team is giving the Lostbox a website an exciting new look.
Clare said: "The input and expertise from Thrive in 2014 has been invaluable. They have helped us to tick every box when it comes to strategic goals for the year.
"We've seen our website traffic, Google ranking and industry leader position increase, not to mention improvements to communications with our audience."
Although discussions and brand strategy planning remains ongoing, Lostbox are excited to reveal they will have a refreshed brand going live in early 2015, thanks to Thrive – and those blogs will keep on coming!
One of the most recent blog posts has even received some authoritative attention – from none other than the boys in blue, with the Metropolitan Police advocating Lostbox for lost property in an online feature.
Sarah said: "Clare sent over a couple of news links about police passing on the responsibility of reuniting people with lost items and we both knew a great blog post was in there.
"It's just been great to be a part of Lostbox's growth and hear all of the amazing things that are happening – Clare is great to listen to when she's chatting away!"
Clare said: "Developing key partners is critical to our success. Within one week of Sarah posting a blog about the police withdrawing their lost and found service we received an email from the Met Police wanting to find out more about our service!"
Within 12 months, lost and found service, Lostbox, has rocketed in brand awareness and general popularity, going from 40,000 social media followers to an audience of 90,000 in December 2014!
As Thrive's creative input with Lostbox increases this year, things are certainly looking bright for Clare and Lostbox…