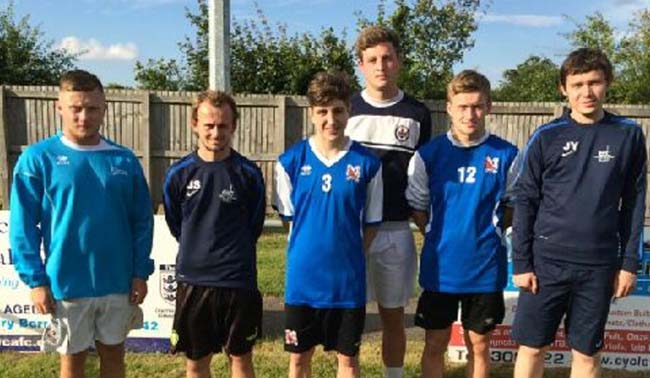 Six young players have signed on for Newton Aycliffe FC as the work of their youth development partnership begins to bear fruit.
The Newtonians joined up with Newton Aycliffe Juniors FC last season, to work in partnership for the development of playing opportunities for players after they had left 'junior' football.
NAJFC entered a team into the Durham County U21 league, with a view to providing a stepping stone for the players into senior football.
It was a move fully supported by NAFC, as they look to ensure talented footballers from the Town are retained within the local system.
And the benefits of that approach are already being seen.
Six of the young players have signed for NAFC, offering them the chance to represent their town in the Ebac Northern League First Division.
Ryan Farley has played for NAJFC for the last three and half seasons is the current u21's GK and team coach and assists with all team matters
Joe Young is a strong tough tackling central defender who is in his second spell at NAJFC and is the u21's vice captain
Jack Slatcher is a combative box to box central midfielder who has played for NAJFC since the age of 4 and is the current u21's captain studying sport at Durham University
Adam Smith is from Chester Le Street and joined the u21's last season. He is a quick and skilful player who is comfortable at left back, left midfield and centre half and is studying at Sunderland university.
Josh Baker joined the u21's  last season and was the youngest player in the squad at just 17 years of age and is a measured full back who can play on the left or right hand side of defence
Ash La Van also joined the u21's last season and plays either behind the striker in the hole or as a striker, strong on the ball and a proven goal scorer having scored 12 goals in only 7 appearances
New Aycliffe Manager Dan Mellanby has made no secret of his desire to utilise more local based players this term, with his goal to give the people of Aycliffe a team they can be proud of.
Mellanby said: "These lads have come in and done really well in pre-season. They absolutely fit the bill for us in that they are young and athletic with a great desire to do well for their hometown Club.
"They will be involved in the pre-season games programme with every chance of playing Northern League football for Aycliffe this season".
Chairman of Newton Aycliffe Juniors, and Manager of the U21 side, Nige Slatcher, is equally pleased to see the partnership working so well already.
He said: "Both clubs are keen to further develop our partnership approach and, following the agreement that NAJFC U21's would become NAFC official development squad, it is both pleasing and satisfying to see six of the current U21 squad signed by the town's Northern League.
"It clearly proves there is a pathway for younger players to be developed at the right pace and given the opportunity to then step up to the senior side when appropriate.
"This approach should ensure that the town of Newton Aycliffe has the best possible opportunity keep their home grown talent playing for NAFC and not other neighbouring clubs."