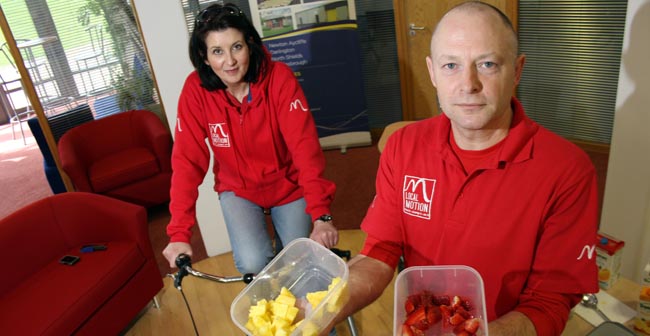 By Martin Walker
An innovative transport project that helps jobseekers, reduces congestion and protects the environment is expanding following a successful funding bid.
Durham County Council's Local Motion project has been awarded £840,000 from the Department for Transport's Local Sustainable Transport Fund to further expand the project in 2015/16.
Local Motion aims to make it easier to walk, cycle and take public transport in the south of the county.
One of the initiatives has already proved a big hit on Aycliffe Business Park, with Travel Rangers Steve Shepperson and Francisca Guzman-Speight giving business-owners and employees the Smoothie Bike experience – creating your own smoothie by riding a specially-made bicycle.
The funding means that the project, which the awarding body commended for helping improve the employment opportunities of those without a car, will be expanded next year to include the Spennymoor, Crook and Willington areas.
Improvements to walking routes and their promotion will be carried out and a range of measures will be put in place to improve local bus services and make them more attractive to commuters.
As well as ensuring communities have easier links to major employment sites in Aycliffe, Bishop Auckland and Spennymoor there will also be improved services between County Durham and Darlington.
Jobseekers who have found employment or training will also be offered a pre-paid smartcard to cover their travelling costs until they receive their first month's wages.
As well as improving the cycle network, bicycles will also be made more easily available by providing refurbished bikes at a discount.
Cycle safety and security will be promoted and more riders encouraged by providing training at local Jobcentres and workplaces to boost cycling confidence.
The individual projects will be underpinned by an overall campaign to promote sustainable travel and raise awareness of the options available.
Businesses will be supported to promote it within the workplace and local sixth formers will be targeted to help them choose sustainable travel when they move onto work or further education.
As part of Local Motion, the funding will also allow the highly successful MEGA Motion project to be brought to the new areas.
Along with educating primary school children on healthier and greener ways of travelling, MEGA Motion organises fancy dress themed walks to school to encourage the children to walk more frequently.
Cllr Neil Foster, Cabinet member for economic regeneration, said: "By awarding funding the Department for Transport has recognised the great results Local Motion has already achieved and will help us make an even bigger difference in County Durham.
"By supporting alternative ways of travelling, we make sure that people without cars can access more opportunities as well as reducing traffic and protecting our environment."