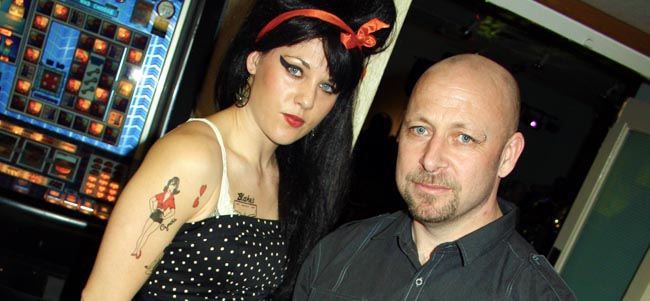 Newton Aycliffe is to benefit from an exciting live music festival this Spring!
The event, Party in the Park, has been announced as a joint venture between the Town's Northern League football Club, and their landlords Newton Aycliffe Sports Club.
Taking place on Sunday 4th May, the organisers have promised a live music extravaganza starting at 2pm, and lasting through until 10.30pm.
There are a range of bands already lined up, featuring indie, rock, ska, punk, blues and hip-hop so it really will appeal to all tastes.
Tickets, which went on sale this week, are priced at just £10 and available from the bar at Newton Aycliffe Sports Club.
There will be a number of can bars located around the football pitch as well as food stalls, ensuring the full feel of a music festival will be available.
Secretary of the Sports Club Shaun Saunders (pictured above with an Amy Winehouse tribute act at the club a couple of years ago) said: "We can't wait for the event.
"We have a long and successful track record of bringing live music to the Club, and utilising our grounds in this way is an excellent way of increasing revenues, while giving our members and the wider population of Aycliffe an event they can be proud of.
"This is to be the first year of an event we hope will become a fixture in the music calendar for the Town".
NAFC general manager Dan Lewis added: "We're delighted to be working closely with the Sports Club to host what we think will be a great day.
"The Football Ground is an ideal venue for such an event, and we hope the supporters of the Club as well as music lovers in general will come down and make the most of the day."
Saunders is also offering the chance for any upcoming local acts who want to take part in an open mic slot on the day to contact him either via email on [email protected] or via the event facebook page www.facebook.com/events/281216575369742.