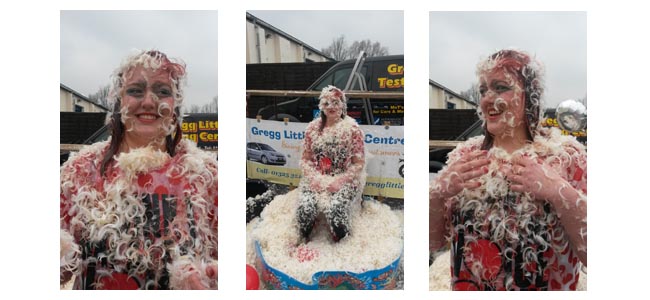 By Martin Walker
Newton Aycliffe family-run garage Gregg Little Testing Centre have so far raised £500 for Comic Relief – thanks to a little help from their feathered friends.
The firm's customer service receptionist Alice Todd, Gregg Little's granddaughter, agreed to be tarred and feathered as part of their annual Red Nose Day antics on Friday.
GLTC raise around £2,000 a year for a variety of charities and always do their bit for Comic Relief at this time of year.
Staff donned the usual Red Nose Day gear and took part in a bake off, selling cakes to customers, while Alice's brave stunt has already raised more than £300 alone, with online donations still coming in.
"I can't believe I volunteered for this!" joked 21-year-old Alice, who was covered in gunge made up of vegetable oil and treacle coloured with red food colouring followed by a bag full of feathers.
"We get involved in a lot of charity events here at GLTC, and this year I really wanted to do something funny for money… tar to everyone who sponsored me!"
The majority of donations were made in person today, but readers can donate to Alice's brave efforts online by clicking here.
See more pictures below…