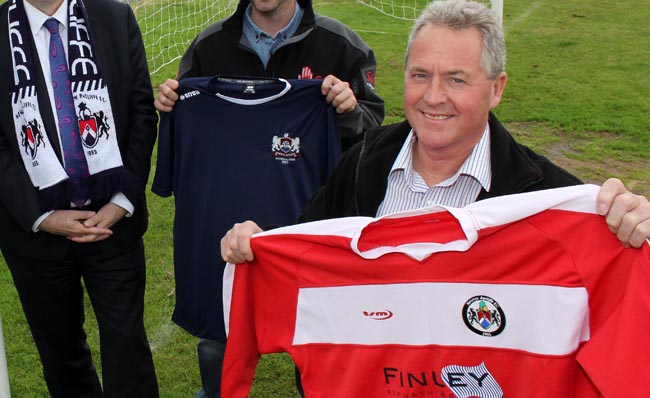 By Martin Walker
The boss of one of Aycliffe Business Park's biggest recent success stories is calling on fellow firms to get behind the town's football club.
Aycliffe, currently in the Ebac Northern League first division, has revealed plans to allow the name of its ground, Moore Lane Park, be rebranded in a special corporate competition.
It's part of the club's plans to build stronger links with Aycliffe Business Park.
Click here for more details about the competition
Finley Structures, which is currently working on a high-profile contract at the nearby Hitachi site for Shepherd Construction, provided the steel for a new stand at Moore Lane Park three years ago.
The firm's Managing Director John Finley said: "I think this is a fantastic initiative by Newton Aycliffe FC and a great way for businesses to support their local football club, but also to get something for their money at the same time.
"We've always been big supporters of the club and we think it's important for local firms to do their bit.
"Aycliffe's success in recent years has been phenomenal, but with that success comes the added expense of running a club at a top non-league level, and I've always been hugely impressed by the army of volunteers who give up their time to help run it.
"Supporting local sport is a nice to do, but there is also great satisfaction from investing a little and helping to play your part."
Businesses are asked to buy a 'ticket' for just £100, with the winner being drawn at random and getting exclusive naming rights to Moore Lane Park.
There will also be runner-up prizes of pitchside perimeter advertising boards (worth £300) as well as match and matchball sponsorship packages worth up to £100.
It means every business which buys a ticket will win something in return at least equal to the amount of its investment.
Firms who take out shirt sponsorship and pitchside perimeter advertising boards at Aycliffe are automatically entered into the stadium rebranding draw.
To get involved with the club, call General Manager Dan Lewis on 07581 784726 or email [email protected]