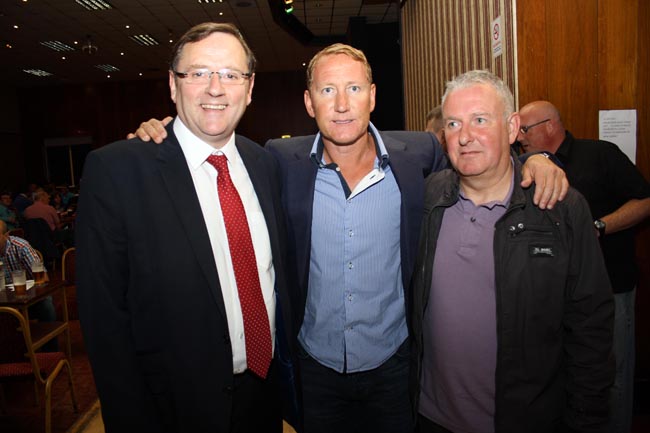 By Martin Walker
Footy legend Ray Parlour starred at a fundraising event for Newton Aycliffe FC on Friday night.
The former England, Arsenal and Middlesbrough midfielder was the guest speaker at the club's latest event, held at the town's Working Men's Club.
Parlour, pictured with club president and Sedgefield MP Phil Wilson along with chairman Gary Farley (right), told several interesting and humorous stories about his career, with particularly funny references to Gunners boss Arsene Wenger and former team-mate Tony Adams.
"It's always nice to come back to this neck of the woods," said Parlour.
"I had a great two-and-a-half years with Boro, a great club, and I love the people of the North-East.
"I won a few medals during my time with Arsenal but I don't like to bore people with that, I think funny stories about what used to go on behind the scenes are much more interesting, and hopefully everyone enjoyed it."
Scouse comedian Gary Skyner was also a highlight of the evening, having the 150-plus audience in stitches.
Aycliffe then held an auction, with a Lionel Messi-signed Barcelona shirt going for £300 and an old Wembley seat signed by Sir Geoff Hurst also selling for £300.
The event, hosted by Sky Sports News reporter David Craig, raised a little over £2,000 for the Northern League club.
"It was a tremendous success," said general manager Dan Lewis, one of the organisers.
"Everyone had a thoroughly enjoyable evening and went away with a smile on their face, which is ultimately the main thing.
"The fact we raised a lot of money is also a huge bonus, and we'd like to thank everyone for coming along and supporting us, particularly those who bid so generously during the auction.
"We hope to organise another similar event around March time next year, so we look forward to hopefully bringing another footballing legend to the town."
Mr Wilson added: "It was a cracking night and I absolutely enjoyed it – it's great that the club could attract such a big name from the world of football, have a really good night and raise some much-needed money all in one go.
"I look forward to future events being held by the club and I'm sure they'll be as well supported as this one was."