Scott Ellwood sowed the seeds for his new landscaping venture more than a decade ago.
Now he's reaping the rewards after seeing his fledgling firm flourish into a blossoming business.
After starting out as a sole trader in 2006, Shildon-based Ellwood created his limited company, SE Landscaping, in 2014.
He now heads up a team of seven – one of which services more than 20 clients on Aycliffe Business Park full-time from the company's Whinbank Park site – and Ellwood expects turnover this year to exceed £200,000.
"It's very much been a gradual process of building the business over the years," says the 38-year-old, pictured above.
"I started out as a sole trader when the company I was working for went out of business. I'd been with them for 11 years – from an apprentice up to contract supervisor in the end – and so I'd built up a lot of my own contacts in the business.
"Some of them gave me contracts which got me up and running, including one with Balfour Beatty, which we still work for to this day."
After winning more work – SE Landscaping currently has more than 70 active clients on its books – the firm now employs three full-time site staff as well as Jamie Fish, who's in the first year of his apprenticeship, while his dad and wife have recently been taken on to help out.
"My dad was a health and safety officer and now works for me part-time now he's retired, looking after our health and safety three days a week," added Ellwood.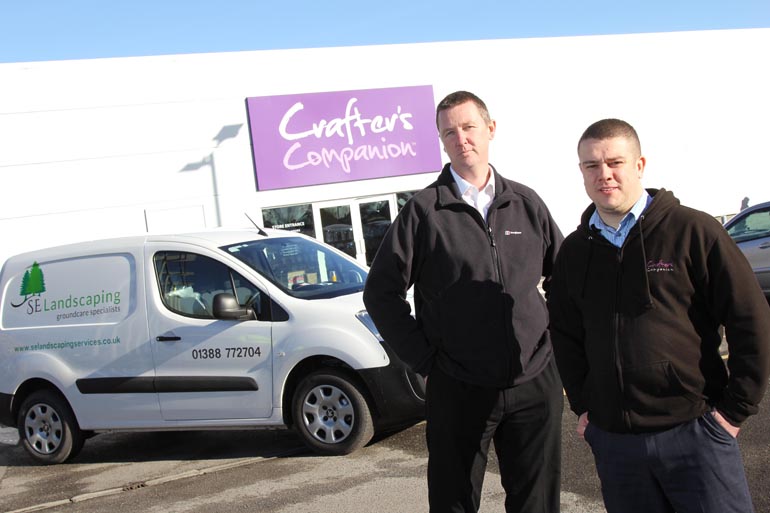 SE Landscaping managing director Scott Ellwood with Crafter's Companion finance and operations manager UK, Andrew McDonald.
"I've also just taken on my wife, Lyndsey, as secretary so I can concentrate on running the business, seeing clients and trying to win new work."
Of its recent contract wins, SE Landscaping has been working for Crafter's Companion, at its new store and HQ along Horndale Avenue.
Andrew McDonald, finance and operations manager for Crafter's Companion UK, said: "SE Landscaping have been carrying out grass cutting, verge maintenance and winter maintenance for us since May 2016, as well as a series of small landscaping projects to improve the site.
"In the coming months they will be planting some bedding plants in the corporate colours to improve the frontage of our head office, which we're looking forward to seeing, as their work is always of a high standard."
Crafter's Companion isn't the only well-known Aycliffe firms SE Landscaping look after, having worked for a number of years already for the likes of PWS, Wartsila on Northfield Way, Premo Fabrications on Durham Way South and both Sensotronics and Advance Automated Systems off Welbury Way.
And SE Landscaping's links with Aycliffe don't end there.
The firm sponsored Newton Aycliffe FC's away strips for the 2016-17 Northern League season and has also sponsored Aycliffe Juniors Under-10s for the last four years.
"I've had a close association with the junior teams over recent years and so we've naturally started to follow the senior team in the Northern League," says Ellwood.
"It's a cracking set up down Moore Lane and we enjoy going to the game – and we're proud to be one of the club's sponsors this season."
Away from Aycliffe, SE Landscaping has won a string of both private and public sector contracts across the North-East region – working as far South as York and as North as Cramlington.
But it's the company's work with local authorities which has been its bread-and-butter – and set it on the road to success.
SE Landscaping picks up work from Durham County Council – which represents about 25% of its annual turnover – while it also works for Evenwood and Gainford parish councils, and its biggest contract win to date was a £350,000 six-year deal with Chilton Town Council.
The firm's work in Chilton has won awards, while SE's cemetery at Chilton has picked up two gold medals from Northumbria in Bloom.
In other areas, SE Landscaping works with Teesside-based petrochemicals giant Sabic, Portakabin on Portrack Lane in Stockton, Intelect UK at Riverside Park in Middlesbrough and Teesside property rental firm Parker Barras, which involves maintaining its portfolio of properties including flats and industrial units.
"Our turnover has doubled in the last two years through natural growth," says Ellwood.
"What pleases us most is the awards and recognition that our work is singled out for, which we're very proud of."
SE Landscaping's services include grounds maintenance, garden landscaping, public rights of way, playground maintenance, snow ploughing and salting, tree planting and tree care, fencing repairs and installations, turf laying and seeding, pesticide application and weed control.
For more details about SE Landscaping, go to selandscapingservices.co.uk, email [email protected] or call 01388 772704.