Newton Aycliffe climbing facility Rock Antics has confirmed it intends to close at the end of the month due to a lack of footfall.
The facility's owner/director John Crooks has told Aycliffe Today that "unless anything changes" he can't see a way back for the struggling venture which opened less than two years ago.
Rock Antics is a stand-alone company which rents part of the ROF 59 activity centre, which is still very much open for business and continues to attract thousands of visitors every month.
When the plans for Rock Antics to relocate from Aycliffe Leisure Centre to ROF 59 were first revealed in November 2014, Crooks and his partner Vicky (pictured above) said they expected a 30% increase in footfall following the move.
"We get around 15,000 people a year using Rock Antics in the leisure centre and we're expecting that to top 20,000 in this new facility," Crooks said back then.
However, rumours have circulated recently that the business was set to close down.
And Crooks confirmed it to Aycliffe Today, by telling us: "It's looking likely. You never know, but unless anything changes, I can't see us turning it around.
"We knew it was going to be more expensive than the leisure centre but we'd forecast higher numbers and the footfall just hasn't supported that, so it is down to footfall."
Aycliffe Today understands Rock Antics has fallen behind in rent and payments in respect of the wall itself as Finley Structures supplied and installed the structure which was to be paid off over time.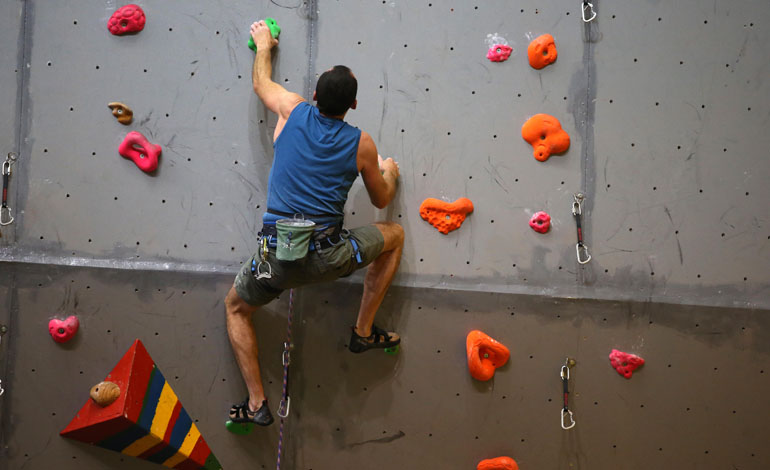 Owners Finley Leisure refused to comment on the financial details of the tenancy, but a spokesperson for the firm said: "We have supported Rock Antics in their new venture over the last two years, assisting them in various ways to ensure they continue to trade from ROF 59.
"We're well aware that Rock Antics have a loyal following but unfortunately their forecast for new business hasn't transpired which has ultimately led to this.
"But as yet we have not received formal notice from Rock Antics about any intention to close."
ROF 59 opened in a blaze of publicity in the summer of 2015 when the former World War II munitions factory was transformed into a state-of-the-art activity and leisure centre.
Finley Structures invested more than £1.2m in the facility, excluding the purpose-built, Olympic standard 22-metre climbing wall.
Since opening, ROF 59 has continued to expand with new facilities, including a Virtual Reality centre and a play area for small children, while plans are afoot for new outdoor activities including an army assault course, zip wire, outdoor laser combat and a ninja warrior course.