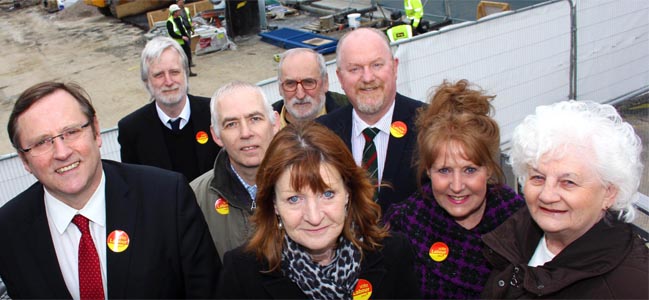 By Martin Walker
The Labour Party strengthened its hold on Durham County Council – with all seven of the group's Aycliffe candidates winning their seats!
A number of Independent candidates suffered embarrassing defeats in the local elections, with Bill Blenkinsopp and Paul Gittens (for the Aycliffe East ward) and Aycliffe West candidates George Gray and Dorothy Bowman all losing their election.
Sarah Iveson held her Aycliffe East seat while Jeremy Hillary won a place on the local authority.
John Clare, Mike Dixon and Joan Gray won their Aycliffe North and Middridge seats, while Eddie Adam and Katie Hopper were victorious in Aycliffe West.
Pictured above (left-to-right): MP Phil Wilson with the victorious team, John Clare, Eddie Adam, Kate Hopper, Mike Dixon, Jed Hillary, Joan Gray and Sarah Iveson.
Full Durham County Council election results for the Aycliffe wards are as follows:
Aycliffe East
Candidate
Party
Votes
Elected
BLENKINSOPP, William Maurice
Independent
598
CUTHBERTSON, Lileen Margaret Griffin
Independent
233
GITTINS, Paul Steven
Independent
456
GOODSON, Raymond
Conservative Party Candidate
119
HILLARY, Jeremy Paul
Labour Party Candidate
732
Elected
IVESON, Sarah Jane
Labour Party Candidate
885
Elected

Electorate: 

6599

Turnout: 

25.75%
Aycliffe North and Middridge
Candidate
Party
Votes
Elected
CLARE, John Duncan
Labour Party Candidate
985
Elected
DIXON, Edward Michael
Labour Party Candidate
884
Elected
GRAY, Joan
Labour Party Candidate
988
Elected
HAIGH, Sandra
Independent
660
SWAN, Marney Jane
The Conservative Party Candidate
461

Electorate: 

8357

Turnout: 

21.38%
Aycliffe West
Candidate
Party
Votes
Elected
ADAM, Edward Montgomery
Labour Party Candidate
697
Elected
BOWMAN, Dorothy
Independent
274
CROFT, June
Independent
104
GRAY, George Coulson
Independent
445
HAIGH, Brian
Independent
185
HOPPER, Catherine Mary
Labour Party Candidate
761
Elected
MURRAY, Fane Robert Conant
Conservative Party Candidate
94
SYMONS, Sally Annmarie
Independent
103

Electorate: 

6125

Turnout: 

23.09%