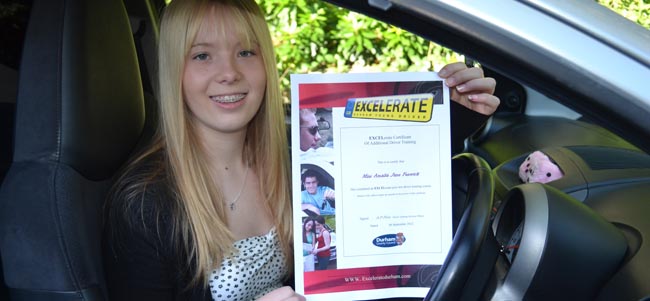 A scheme in County Durham is helping keep young drivers and their passengers safe on the road.
The EXCELerate programme has been developed by Durham County Council's road safety team to address the main causes of accidents among 15 to 25 year-olds who live in the county.
There are five different levels to the programme, each designed for a specific group, ranging from those who have not yet started driving to those who have passed their test.
A variety of methods are used to improve driving standards and develop safer drivers, including sessions in schools and colleges, online training, and use of the latest video and computer technology.
As well as this, EXCELerate trained driving instructors will not only help students pass their driving tests, but will also prepare them for driving beyond the test.
Amalia Fenwick, 18, from Durham, who registered for the scheme said: "The training really helped. I've learned new skills and feel more comfortable driving."
Alan Kennedy, road safety manager at Durham County Council, said: "We would encourage any young driver or young person thinking of learning to drive to join the EXCELerate programme. It will improve their driving skills, which in turn will help keep them safe on the roads."
More information on the programme, along with a list of EXCELerate instructors, can be found at www.exceleratedurham.com or call Durham County Council's road safety team on 03000 268 172.