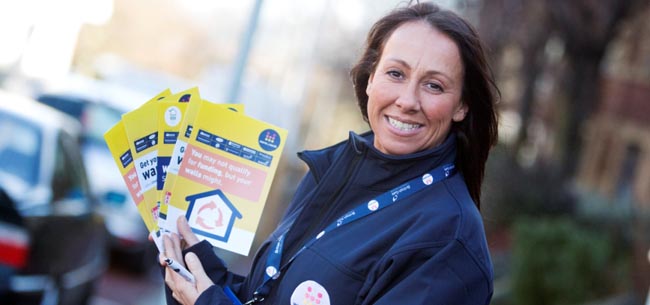 Landmark energy efficiency scheme, Warm Up North, is helping North East homeowners stay safe as 'rogue traders' look to cash in on the Government's Green Deal scheme.
Ian Weatherston, Head of Warm Up North, is advising people living in the North East to be aware of potential unscrupulous door knockers hoping to take advantage of vulnerable residents. The advice follows a warning from Citizens Advice that people across the UK are being contacted through unsolicited telephone calls or by door-to-door rogue salesmen.
Endorsed by nine North East local authorities, Warm Up North enables residents to benefit from part or fully-funded energy efficiency measures, including A-rated gas and oil boilers, solar PV as well as loft, cavity and external insulation, to help make their homes more efficient and reduce energy consumption.
Green Deal is one of a range of funding options available to householders through the local scheme, and will provide homeowners with expert impartial advice from a certified Green Deal Assessor along with tailored recommendations to help increase the energy efficiency of their home.
The initial upfront cost of the assessment will be credited towards the cost of installing energy efficiency measures if householders decide to have the installation of measures completed by Warm Up North.  In addition, cashback is available to help towards the costs of any improvements, through the Government's Green Deal Scheme.
Ian said: "While there is a number of legitimate companies, like Warm Up North, offering Green Deal in the North East, unfortunately some households are being approached by rogue doorstep traders looking to prey on people concerned about heating their home, particularly the elderly.
"Warm Up North is designed to tackle fuel poverty and there is genuine help available to people who are struggling to keep their home warm.
"We are keen to raise awareness of the support available and Warm Up North representatives regularly visit communities across the North East wearing a Warm Up North uniform and carrying their official ID badges.  Warm up North representatives do not undertake cold calling on the door step. However, residents should remain wary of cold callers who may be posing as legitimate companies. Following a few simple steps will assist residents in identifying these unscrupulous visitors."
To help protect themselves from potential rogue traders, the Warm Up North team is advising North East residents to:
Always ask to see identification of the caller. Legitimate door knockers should carry and present an official ID to homeowners before initiating a discussion
Never provide any personal information or bank details to a door knockerIf an assessment is completed and a trader offers you an estimate, always ensure you get a written quotation
Never hand over any money as a deposit
If completing any paperwork, always read the small print and the take time to read it through properly
If in doubt, always seek professional advice. Any genuine door knocker should not mind waiting outside, while you contact their employer to verify their identification.
Ian added: "As Warm Up North is endorsed by nine local authorities people can be assured the help offered by the scheme isn't 'too good to be true'.
"To find out how they could benefit from the energy efficiency measures offered by Warm Up North, residents should contact us directly for advice and to arrange a whole house assessment."
Cllr Neil Foster, cabinet member for economic regeneration at Durham County Council, said: "One of the reasons we were keen to be part of the Warm Up North partnership was to provide a safe and reliable option for County Durham residents looking to take advantage of the benefits offered through Green Deal.
"Warm Up North is one of a number legitimate schemes operating in the area and we would urge householders to always check a company's credentials before they enter into any agreement."
To find out more about how Warm Up North could help you call the team on free* phone 0800 294 8073 or visit www.warmupnorth.com.
*Calls to an 0800 number are free from a BT Landline. Calls from other lines and mobiles may vary. Calls may be monitored for training purposes.