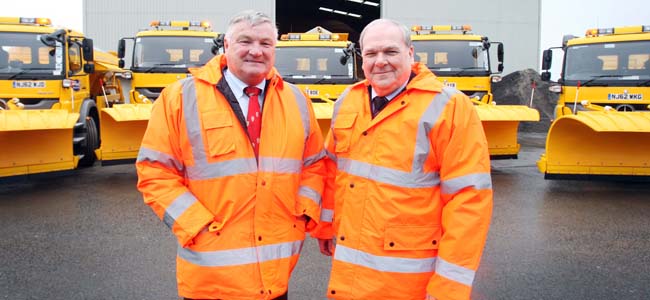 Preparations are being made to keep County Durham moving during this year's winter weather.
The winter maintenance plan sets out how Durham County Council has prepared for snow and icy weather. The plan is reviewed and updated on an annual basis and last year a number of new measures were incorporated.
These measures have been introduced following some severe winter weather over the last few years and are in response to the outcomes of service reviews as well as feedback from local communities.
Cllr Bob Young, Cabinet member for strategic environment, said: "We have already seen the start of the wintery weather last weekend.
"As temperatures continue to drop we are trying hard to ensure that we are as prepared as possible for any further bad weather this coming winter might bring.
"With County Durham having so many scattered rural communities we face particular challenges in the winter and we want to do everything we can to keep the county moving."
In preparation for the forthcoming winter, the council has the following in place:
● More than 42,000 tonnes of salt in the salt barns ready for use;
● 10 new vehicles added to maintain the fleet of 40 power gritters;
● 5 snow blowers should the roads need to be cleared of snow following a heavy fall;
● Contract arrangements with farmers to help with snow clearing should extra equipment be needed;
● Salt bins which are placed at strategic locations around the county are being filled up so residents can help to clear areas around their homes if needed when snow and ice arrives;
● The council will continue to treat – or pre-salt – 45 per cent of the highways network across the county. These priority routes typically include all A roads, most B roads, most bus routes, and other locations that are know to the council as problem areas;
● The council will aim to ensure links to industrial estates, most schools, main bus routes and key routes within housing estates are kept running;
Footpaths are not usually treated during normal overnight frosty conditions. However, following heavy snowfall the council will endeavour to clear footpaths in priority areas such as town centres and busy shopping centres, hospitals, health centres, doctors surgeries and care homes.
With public safety in mind the council's web site will continue to offer daily winter weather updates, including details on which roads are closed, or passable with care, and tips for driving.
Information can be found online at www.durham.gov.uk/winterroads
To report any problems with highways contact the action line on 0191 370 6000.