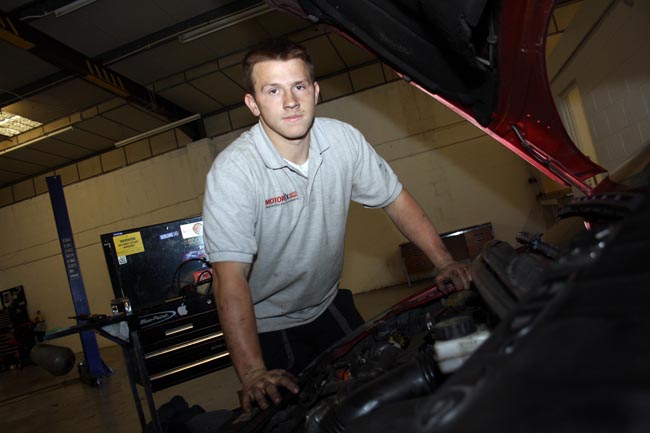 By Martin Walker
An enthusiastic young car mechanic has used the demise of a 40-year-old company to start his own business.
Time-served Ford technician Nathan Barber was one of more than 80 people who lost their jobs when stricken family firm Holiways went into administration in August.
But instead of moping about, the 22-year-old former Woodham Academy student initiated an ambition to start his own business.
Nathan is now running MotorFix Auto Repairs, from Unit 1 at Brighouse Court on Burtree Road, Aycliffe Business Park.
He has already invested £3,000 in a state-of-the-art diagnostics kit, thanks to a business loan from his father, which quickly diagnoses electrical problems in cars.
"I always wanted to set up on my own, and after what happened with Holiways it seemed like a good time to do it," said the former Byerley Park School pupil.
"The Holiways owners had it for 40 years, they've been around for a long time, so it wasn't good for anyone."
Nathan is running an introductory offer for new customers, with a value service and 30-point vehicle health check from just £49.99, valid until 30th November.
Go to our Video Vault to see Nathan's Video Interview in full.
● MotorFix Auto Repairs is at Unit 1, Brighouse Court on Burtree Road, Aycliffe Business Park, DL5 6HZ. Call 01325 320937, or 07584 208022.