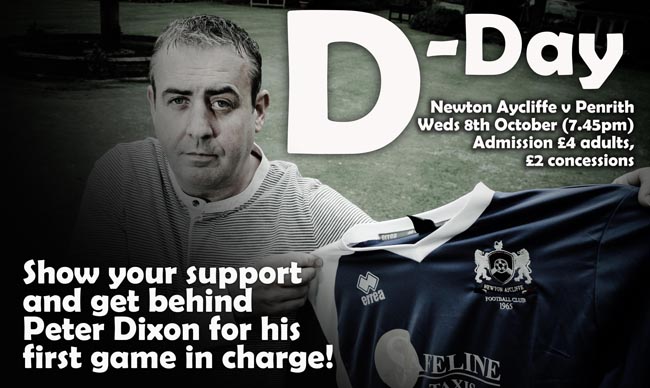 By Martin Walker
It's D-Day for Newton Aycliffe Football Club… D for Dixon!
Our Northern League club has slashed ticket prices for Peter Dixon's first game in charge this week.
The Newtonians officially confirmed the appointment of the former West Auckland boss as their new manager on Saturday night.
His first game in charge will be at home to Penrith at the Aux Audio Stadium on Wednesday night (7.45pm kick-off).
And Aycliffe have slashed prices for the game as a one-off – to £4 adults and £2 concessions – in a bid to get behind the new boss.
General manager Dan Lewis said: "The appointment of Peter is a major one for the club and we want our fans to show their support to Peter by turning out in their numbers on Wednesday night.
"We have a healthy fan base in Newton Aycliffe – we know our fans are out there – but for one reason or another our gates have dipped in recent years.
"Peter knows the potential of this club and is excited by the opportunity, but he has made it clear that his success will depend on what happens off the pitch and the support we get from the town.
"So as a one-off we want to give the stay-away fans an incentive to come back, to support Peter and to get behind our town's football club."
The Penrith game kicks off at 7.45pm on Wednesday night.
• A minute's silence will be held before Wednesday night's game, in memory of former player Darren Ablewhite, who died suddenly on Saturday.