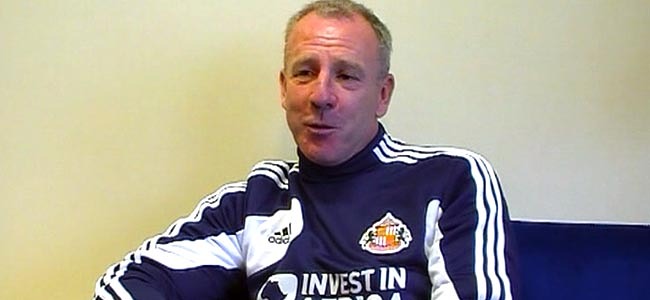 By Glen Robertson
Sunderland senior development coach Kevin Ball is expecting a tough ride on Friday night as he brings a side to Newton Aycliffe for the first-ever time.
The Black Cats will face Allan Oliver's Northern League first division side in a pre-season fixture, and Ball reveals that the Newtonians were carefully picked opponents.
He told Aycliffe Today: "We know they've got a really nice pitch and it is one of the reasons we felt it was the right game to take the game on.
"We like to encourage our players to get the ball down and play and we're aware that Allan likes to do that as well, so it should be a good, competitive, footballing game. We do realise also that it will be a tough game and we're expecting one."
One player who was brought up in Sunderland's system who is used to keeping the ball down and playing is Aycliffe's Nathan Wilson, who will face his former club for the first time since being released last summer.
Ball has been keeping up-to-date with the midfielder's progress and understands he will be wanting to make a big impression against his former employers.
"We know that a few of our former players have played for Aycliffe," he said. "We know that Nathan is playing for them and no doubt he'll be looking forward to the game on Friday night as well."
The Sunderland side Ball will be bringing will be made up of youngsters pushing for a place in Martin O'Neill's first team squad.
Last season saw James McClean break out from the reserve set-up and make a name in the first-team, before being included in Ireland's Euro 2012 squad.
Young players at Sunderland who want to follow in footsteps of the winger will have to prove to Ball they are good enough for the first team before they can step-up.
And Ball will be looking to see how the youngsters handle the fixture against the Newtonians.
He said: "From our point of view, team wise we are going to be young. People are going to be aware the first team have gone to Korea, so we will be a young side, but nevertheless it will be a Sunderland football club team and it will still be one going and expecting to win, and wanting to win."
Newton Aycliffe v Sunderland, Friday 20th July (7.30pm): admission £5 adults and £3 concessions.
SEE BALL'S INTERVIEW IN FULL IN OUR VIDEO VAULT