Inspirational Newton Aycliffe resident Anna Louise Swabey has received County Durham's top award – the Chairman's Medal – following a nomination from the Rotary Club of Newton Aycliffe.
The story of Anna's brain tumour research funding campaign is well known —- having featured in local, regional and national press as well as on BBC television.
A first class honours graduate, it was just over a year ago, that Newtonian, Anna, was given as little as three months to live – 36 months at most – after being diagnosed with an aggressive brain tumour.
For those who know Anna, her response was both typical and to the point when she replied with: "I am not going to roll over and die. There is still far too much that I have to do for people like me".
And in typical Anna style, she has proved true to her word.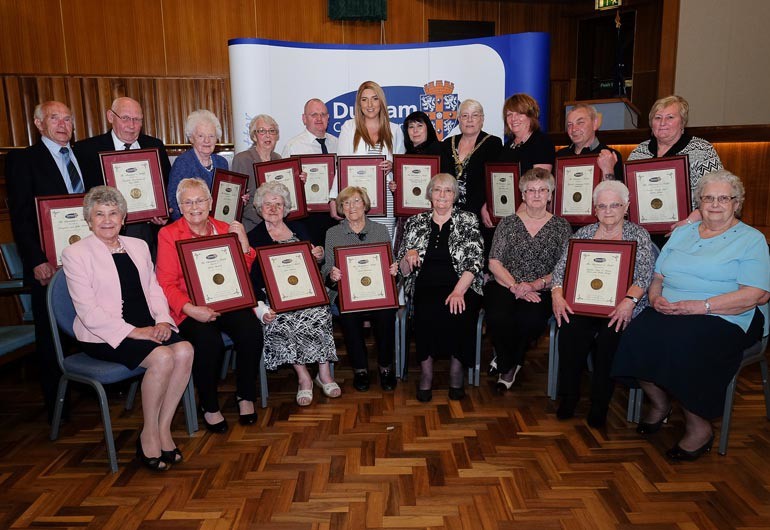 She writes a regular blog on 'Inside my Head' and organised a major awareness and fund raising campaign to enable more research into brain tumours.
In just over a year, Anna's backing for a government debate petition has attracted over 120,000 signatures and her fund raising projects have rocketed to over £40,000.
As a result of her petition, the government has agreed to debate the call for more cash to be provided for brain tumour research.
Cllr Jan Blakey, who presented Anna with the Chairman's Medal, said: "Anna is a wonderful young woman whose successes have been achieved against a background of serious ill health.
"Even so, her message to everyone is that she is a determined and dedicated fighter and there's still so much that she has to do".
"She's a shining example to everyone, and it gave me so much pleasure to present Anna with the chairman's Medal."