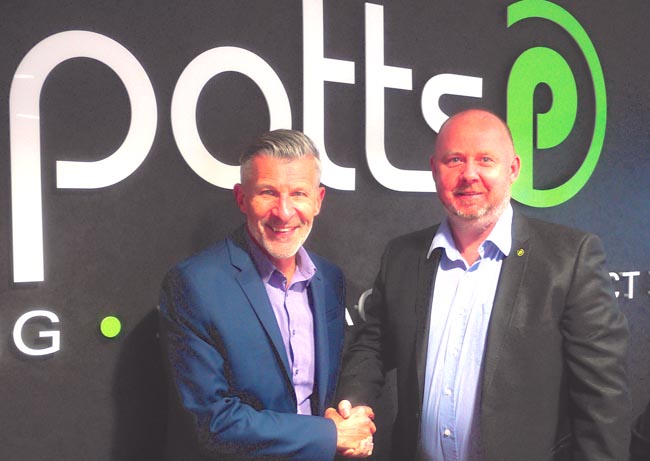 By Martin Walker
Newton Aycliffe print supplies company Inkland has landed a £2m deal with leading North-East firm Potts Print UK.
Inkland was reeling after the announcement that one of its key clients, HPM and Addo, had gone into administration.
But the Aycliffe firm, which employs 10 people at its site on Aycliffe Business Park, has secured a £2m equipment and supplies deal with Cramlington-based Potts Print, including £300,000-worth of computer-to-plate equipment.
Inkland will now shelve plans to relocate to smaller premises and trim its workforce after the good news.
Potts Print Managing Director Shaun Johnson, pictured (above, right) with Inkland boss Steve Wilson, said he was "over the moon" to seal the four-year deal.
"We have a long relationship with Inkland and they have been working on this deal for months," he said.
"I was gutted when I heard of their bad news. This should have been the icing on the cake for all of their hard work.
"We are working on some exciting new projects in the coming year, and I'm delighted Inkland will be actively involved in this development.
Mr Wilson added: "This deal is the shot in the arm we needed after last month's bad news.
"We were facing some tough decisions over the coming months, but this deal and plans to re-locate to smaller premises on the estate will hopefully protect the future of Inkland staff.
"We have received tremendous support from our suppliers, but what has overwhelmed me is the amazing response from our customers.
"After the news broke last month I had call after call from our customers offering their support, willing to pay their accounts up to date, or anything else that would help us through.
"It has really restored my faith in the people of the print industry, an industry which has been through a tough time of late, and one I have been a part of for 38 years!
"We have been dealt a serious blow, but hopefully we can put it behind us and look forward to an exciting 2015."
FIRM DEALT £100K BLOW BY HPM DEMISE