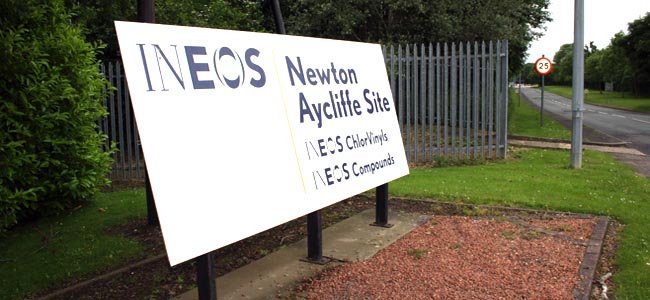 Newton Aycliffe firm Ineos has seen annual losses jump from £6.3m to an alarming £32.6m.
Latest accounts for Ineos Newton Aycliffe Limited show that the disposal of two business streams led to a steep drop in turnover from £233.1m to £120.4m in the year ended December 31 2013, a 52% decrease.
Headcount at the plastics firm was also reduced in that period, from an average of 289 workers to 201, reports the Journal.
The figures come after Ineos sold the trade and assets of two business streams to focus on the manufacture of PVC products.
Plastics have been manufactured at the County Durham plant for several decades, with the operation being bought out by chemicals giant Ineos in 2008 from former owners Hydro.
But the trade and assets of its ChlorVinyls business was sold to Ineos ChlorVinyls, a fellow group undertaking registered in Runcorn, while its Ineos Compounds operation was sold to another group division – Ineos Compounds Aycliffe Ltd – which is also based on the 160-acre site in School Aycliffe.
The firm will continue to produce PVC resins and PVC compounds at the site, to sell to the construction, packaging, automotive and medical industries.
A change in the firm's pension scheme also led to exceptional charges of £6m, the accounts show.
Following a review, employees leaving its defined benefit pension scheme for a new, defined contribution scheme received transition payments and the irrecoverable pension surplus was written off.
The strategic report accompanying the accounts details how the management of the business and execution of its strategy are subject to a raft of risks including significant competition in the company's industries, potential increases in raw materials and currency fluctuations.
Plastics have been manufactured on the Aycliffe Industrial Park site for more than 60 years, under various owners.
The site was once a wartime munitions factory that made a vital contribution to the war effort from 1941 to 1945.
At the height of the war the factory employed some 17,000 people, with around 85% of those women known as "Aycliffe Angels".